Check Availability & Price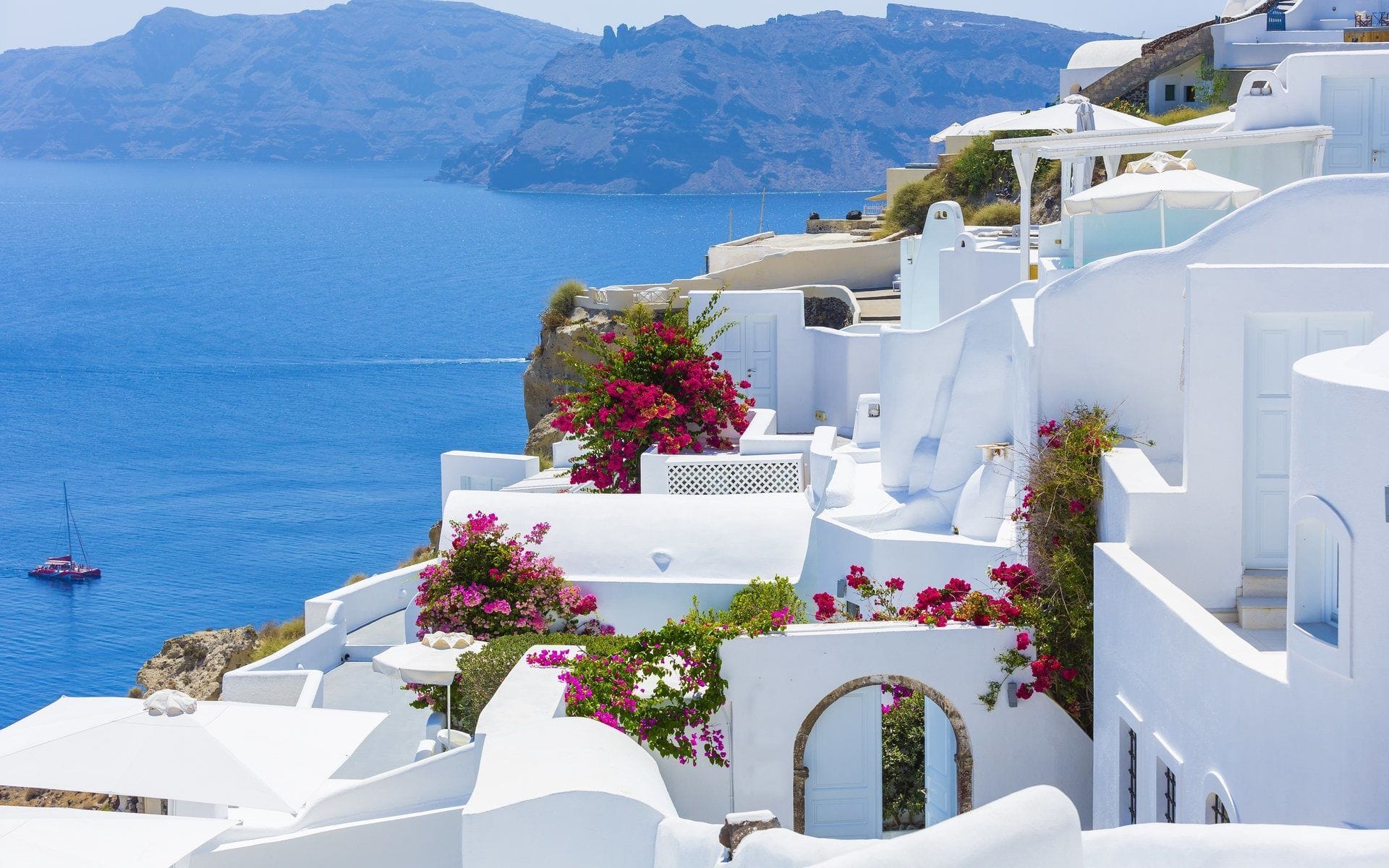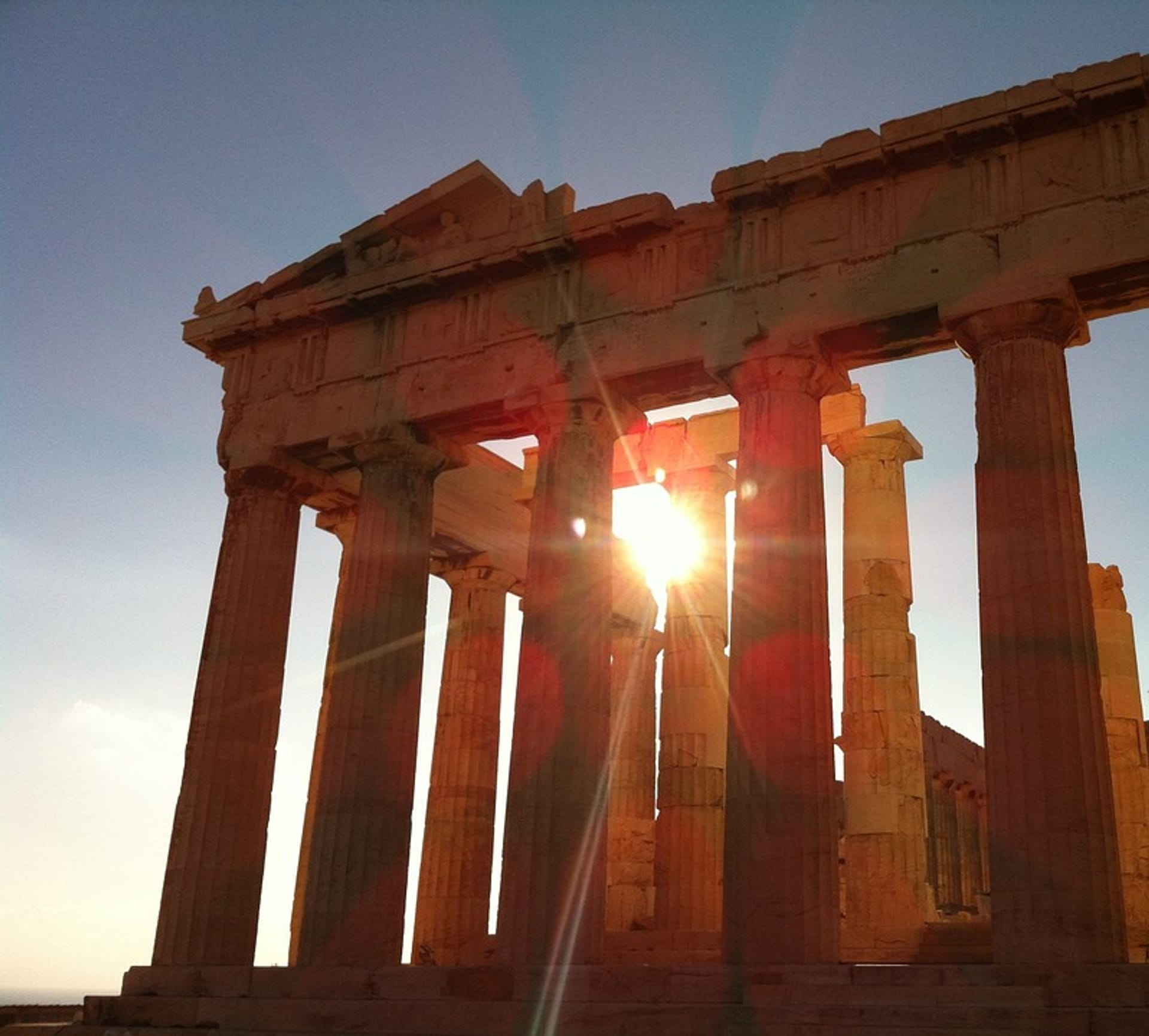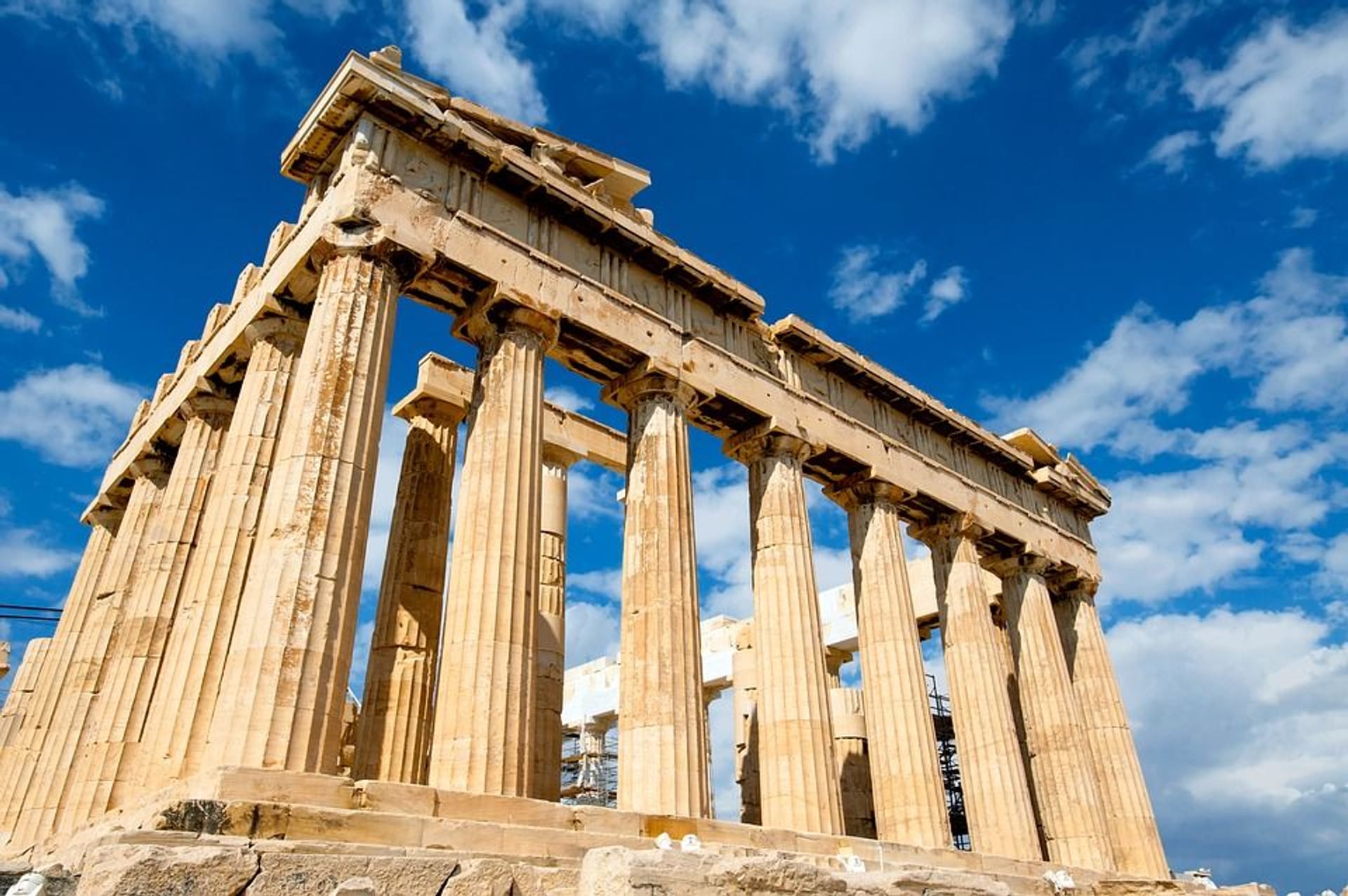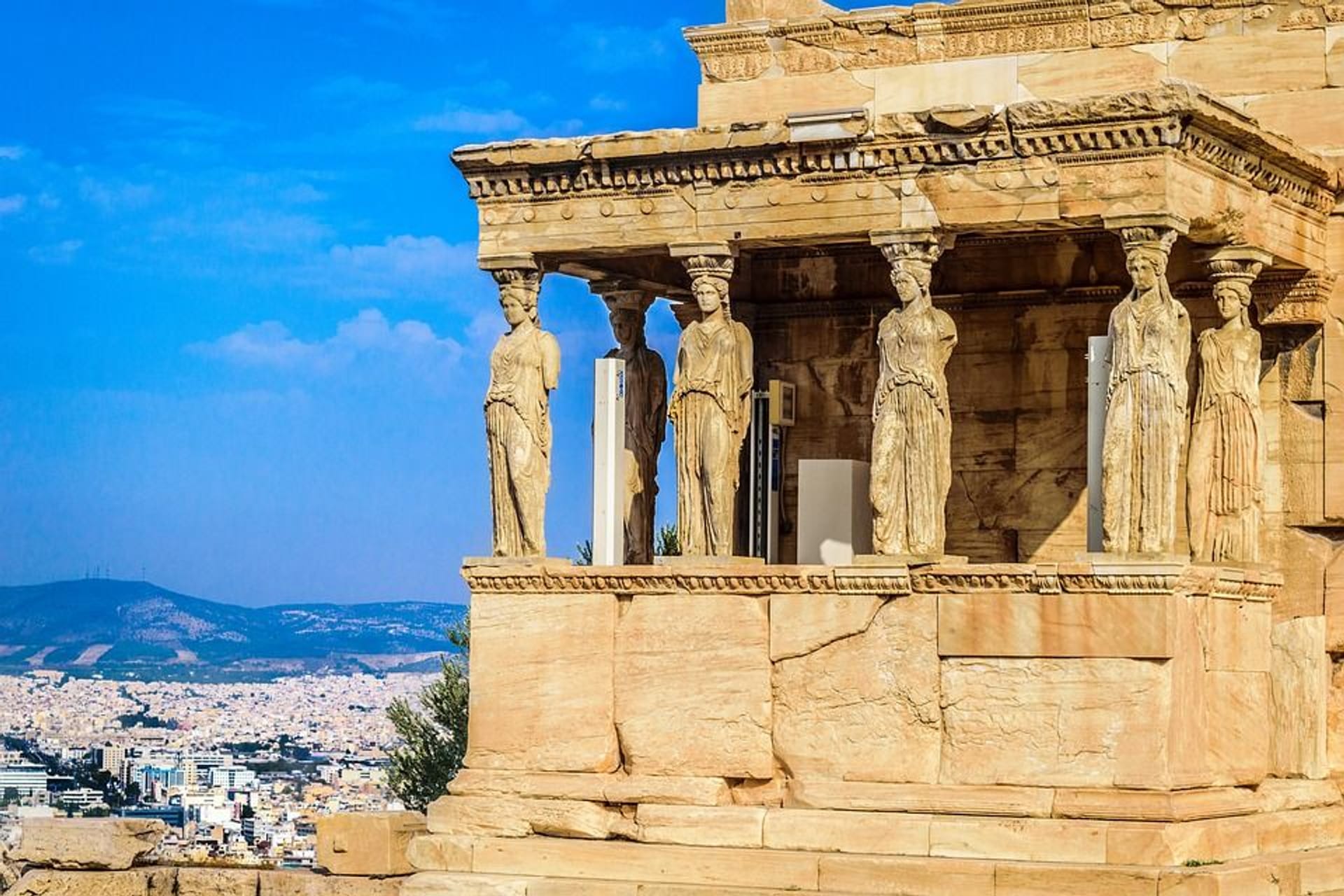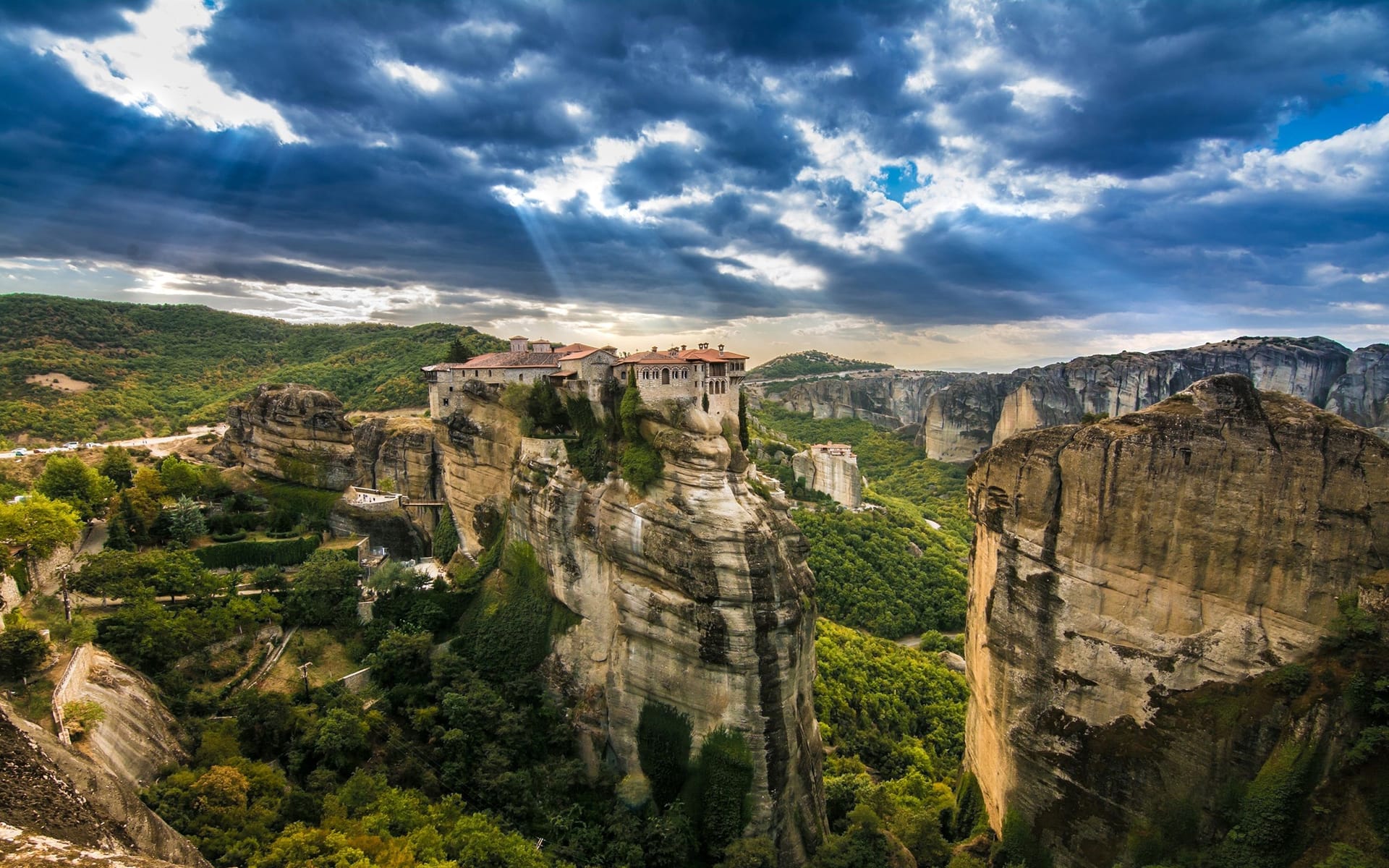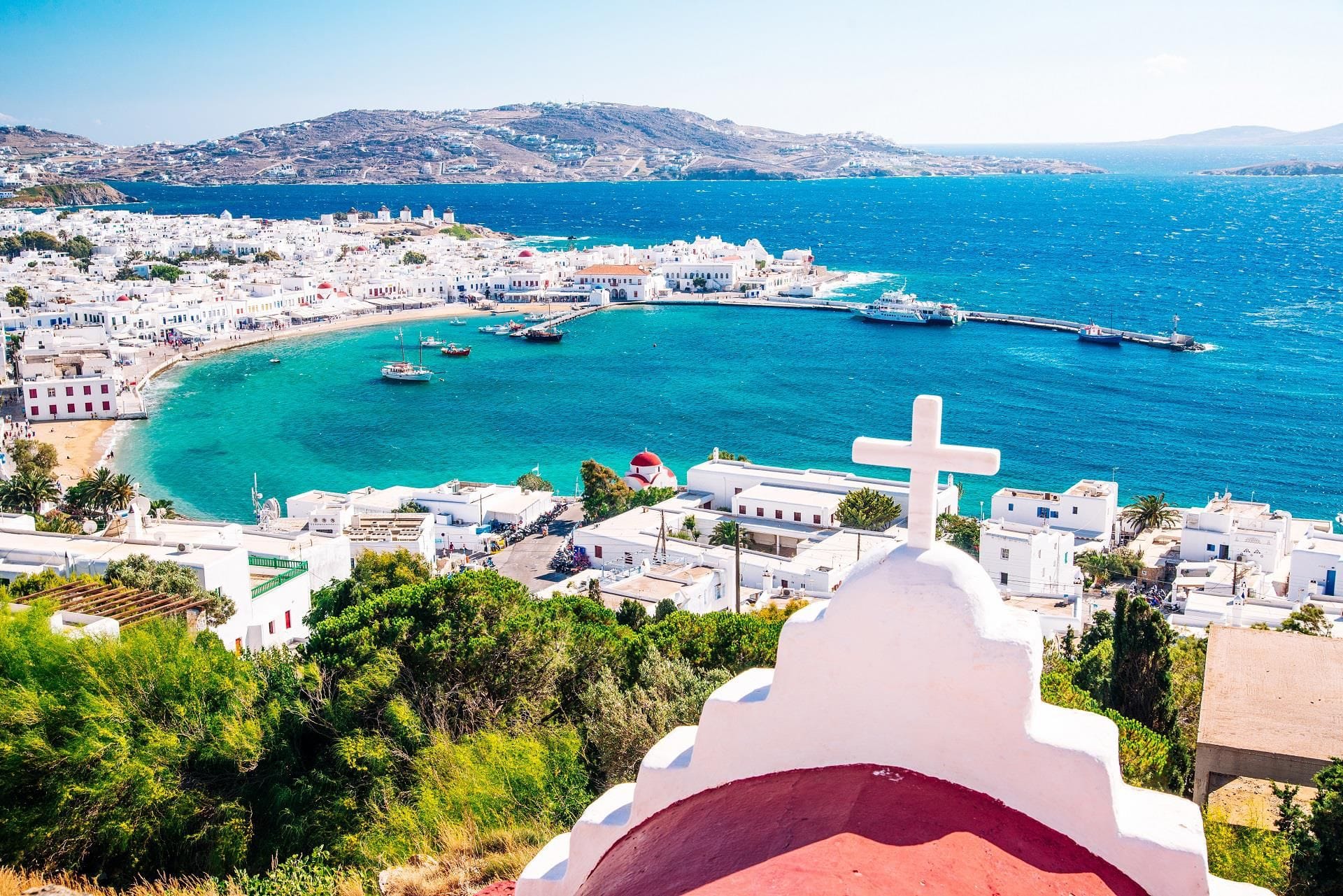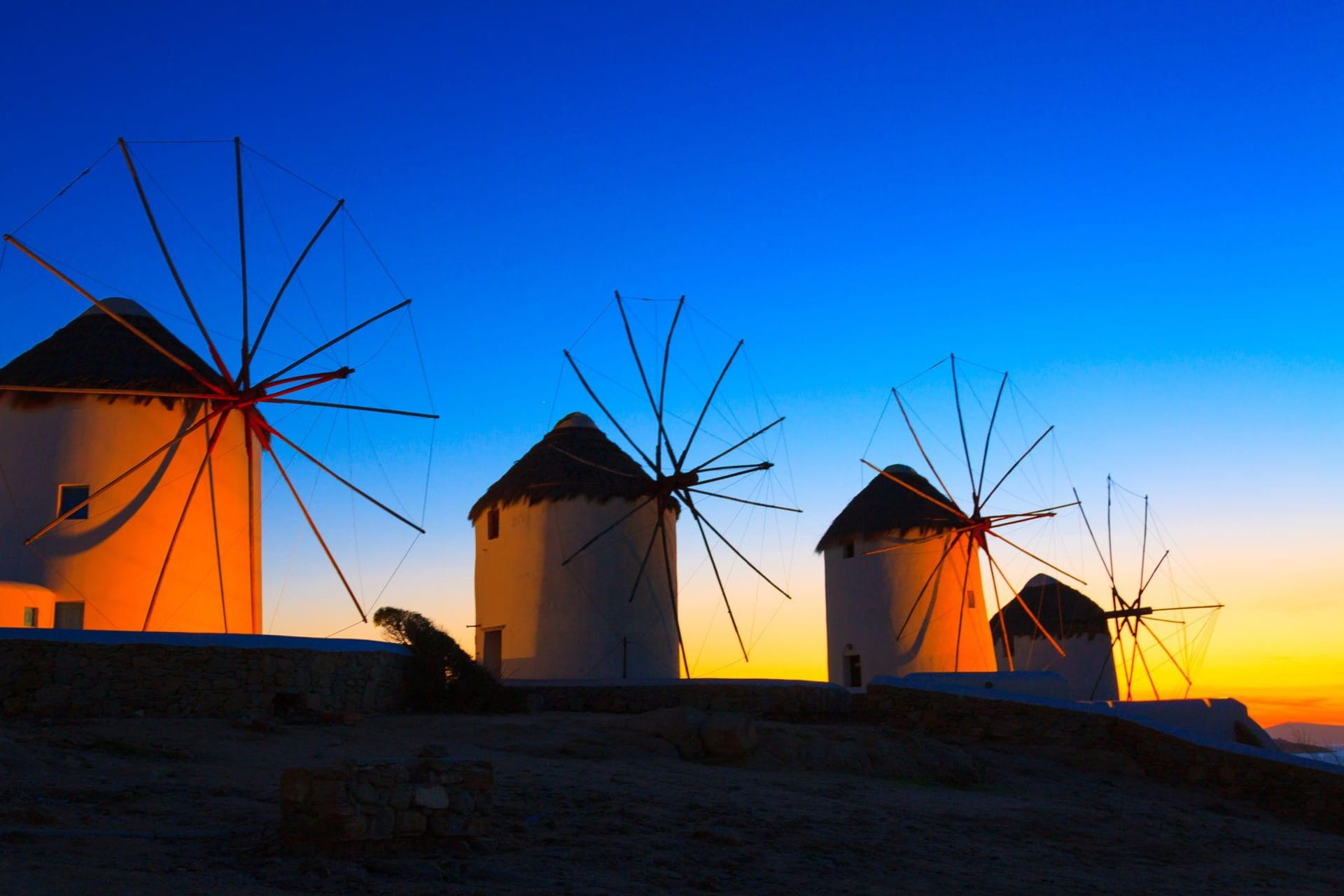 Athens, Meteora, Mykonos & Santorini
Guaranteed daily departures, all year round.
Book Now! All our programs in up to 12 installments without interest
What is included in this package
2-night Accommodation in Athens.
2-night Accommodation in Mykonos.
2-night Accommodation in Santorini.
1-night Accommodation in Kalambaka.
Guided evening walking tour through Monastiraki, Plaka and Anafiotika.
Sunset Tour at Meteora.
Morning tour of the Meteora monasteries.
Train tickets Athens - Kalambaka.
Train tickets Kalambaka - Athens.
Ferry tickets with numbered seats Piraeus - Mykonos.
Ferry tickets with numbered seats Mykonos - Santorini.
Air ticket Santorini - Athens.
All transfers as per itinerary.
24/7 Emergency phone line.
Daily breakfast
Not included & Optionals
Personal expenses, Gratuities (optional) & Municipality Tax.
International air tickets.
Book more nights in Athens, Kalambaka, Mykonos or Santorini

by clicking on "Customize your Program" or

by clicking on "Additional nights"

during step 1 of your booking.

Book a fast ferry

by clicking on "Customize your Program" or on "Customize your transportation" during step 1 of your booking.

Travel with absolute peace of mind by adding our cancellation and/or health insurance in step 1/3 of your booking.

Click on the FAQs for more information on hotels and rates.
10% discount for groups of 10 travelers or more.
*IMPORTANT NOTES:
Please note that from November until the middle of March, the transport from Mykonos to Santorini will be by flight.
Customize it now
Easy and risk free. We will clear up your doubts!
We'll reply in less than 24hrs. Contact us Now!
Package Tour Itinerary: Artemis
ATHENS - CRADLE OF CIVILIZATION
Upon your arrival in the mythical city of Athens, you will be greeted with a seamless transfer to your hotel in one of our vehicles, where your professional and friendly English-speaking driver will ensure your comfort and convenience throughout the journey.
Later in the afternoon, at an agreed time, our representative will meet you at the hotel to provide all the essential details of your trip. They will also offer a captivating presentation of the city, sharing insights into its everyday way of life. This is an excellent opportunity for you to ask any questions and have any doubts dispelled, ensuring a smooth and enjoyable experience throughout the rest of your trip.
You will have the remainder of the day free to relax and explore Athens at your own pace, taking in the sights, sounds, and flavors of this remarkable city.
In the evening you will join our guided walking tour, where you will see Athens from a different perspective and have the chance to familiarize yourself with the most charming neighborhoods, such as Anafiotika, Thiseio, Monastiraki, and Plaka.
Greca Tip: Extend your stay by adding nights during Step 1 of 3 of your reservation!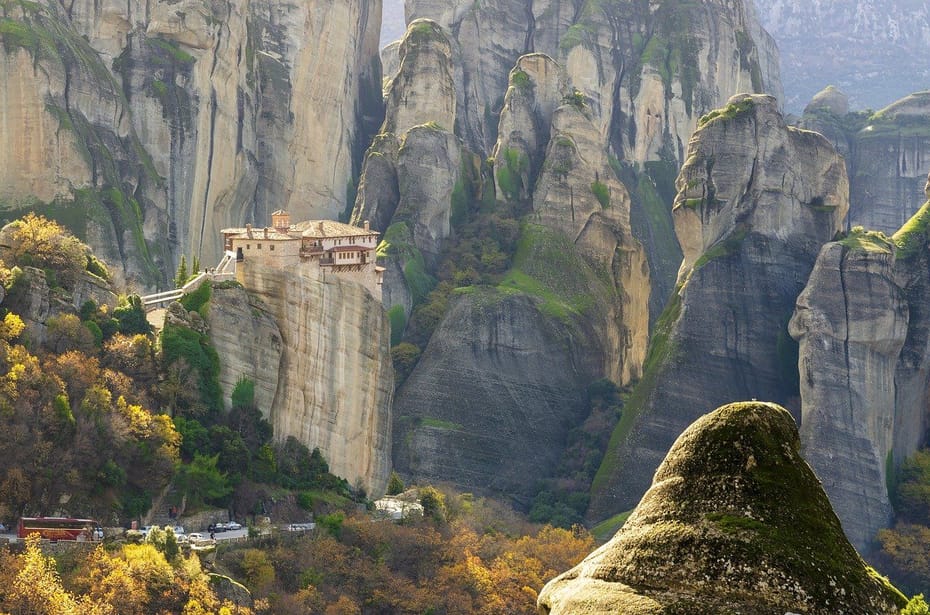 FROM ATHENS TO METEORA BY TRAIN AND SUNSET TOUR
The tour begins at Larissa train station in central Athens, where you will board the train at 07:20 am to Kalambaka station (Meteora). Enjoy a picturesque train journey through the beautiful Greek countryside and at around 11:30 am you will arrive in Kalambaka. Your driver will be waiting for you to welcome and transfer you to your hotel.
In the afternoon, you will begin your sunset tour of the area, starting from one of the six operating monasteries of Meteora, Agios Stefanos or Roussanou. You will visit the oldest standing monument, the Byzantine church of Virgin Mary located in the old town of Kalambaka. This church, built in the early Christian period and with ancient marble embedded in its walls, tells the story of the city spanning 27 centuries. You will then head to the ancient hermitages of Badovas, hear about the stories and legends and enjoy the breath-taking panoramic views. As the sun begins to set, slowly descending upon the mountain ridges, you will climb to the top of the Meteora rocks, a magical place, for a pure, joyous and uninterrupted experience. Up there, you will feel the night breeze blowing amidst these cliffs and you will fill your senses with the splendour of nature. This will be the perfect way to end a beautiful day at Meteora. After sunset, you will return to your accommodation and enjoy a good rest.
Dress code in the monasteries: Sleeveless shirts and shorts are not permitted. Visitors can use the skirts, shawls and trousers available at the entrance of the monasteries, in the event that they do not carry appropriate clothing to cover themselves with.
Greca Tip: Roam the maze-like cobblestone lanes of the old centre and shop around for local handmade embroidery, leather sandals and carved wooden handicrafts.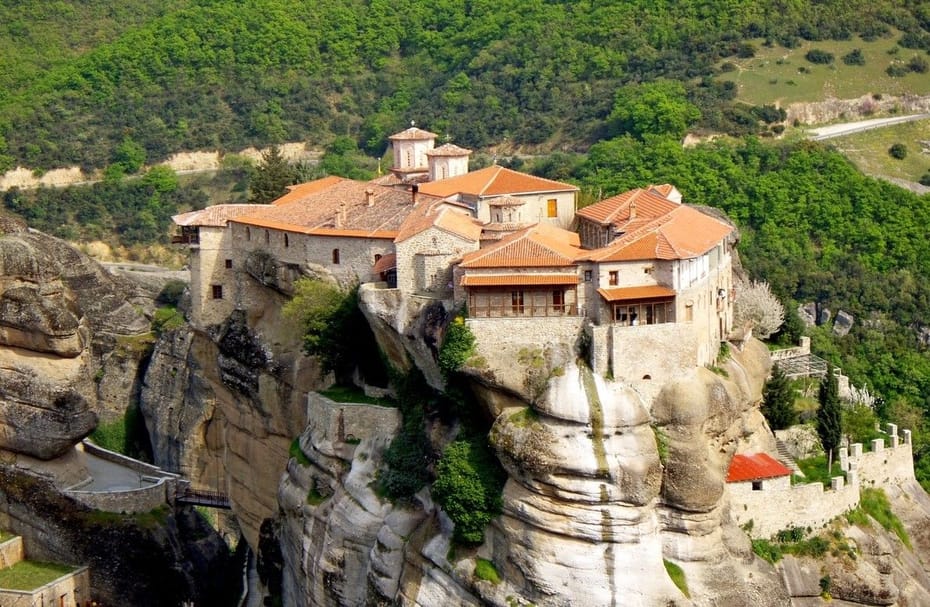 KALAMBAKA - MORNING TOUR AND RETURN TO ATHENS
After a delicious breakfast at your hotel you will start an unforgettable morning tour of Meteora. You will learn which monastery was the first to become established and the reasons behind the monks' decision to attempt to climb the steep rocks and build the monasteries there. In the panoramic tour that will follow, you will enjoy the incredible views and have the chance to take photos of the awe-inspiring scenery.
At 17:15, the train will leave Kalambaka and arrive in Athens at 21:30. Your driver will be waiting for you at Larissa train station to transfer you to the hotel.
Greca Tip: Do not leave this region without trying a variety of home-made pies, a glass of house wine or a few tsipouro shots and the regional pudding ("spatoula") or some "halva" for a sweet aftertaste.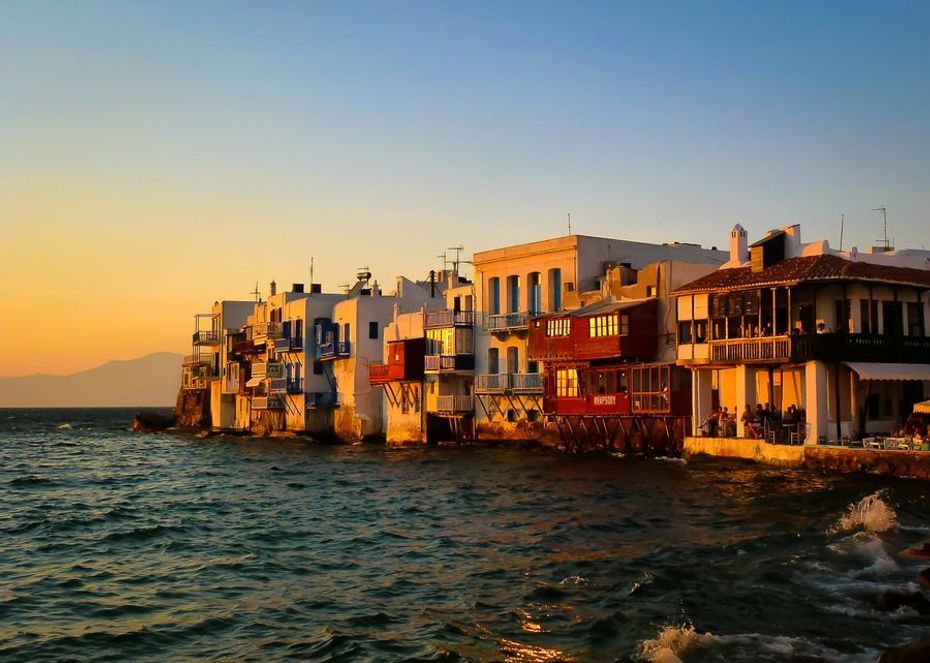 FROM ATHENS TO MYKONOS - NAVIGATING THE AEGEAN LIKE ODYSSEUS
Embark on an exciting journey as we transfer you to the vibrant port of Piraeus. From there, you'll set sail on a ferry bound for the famous island of Mykonos. Bask in the perfect timing of the crossing, enjoying the sun-drenched deck and immersing yourself in the captivating shades of the Aegean Sea.
Mykonos, known as the "heap of stones" or the "rocky place," holds a rich history. According to legend, it was named after Mykonos, the heroic son of King Anius of Delos. As you arrive on this cosmopolitan island, our friendly English-speaking representative will warmly welcome you. They'll assist with your hotel transfer and introduce you to the enchanting charms of Mykonos.
The remainder of the day is yours to unwind and embrace the laid-back island lifestyle. Immerse yourself in the unhurried pace embraced by the locals, allowing yourself to truly relax and soak in the beauty of Mykonos.
Greca Tip: For a swifter journey, consider selecting a fast ferry during the reservation process.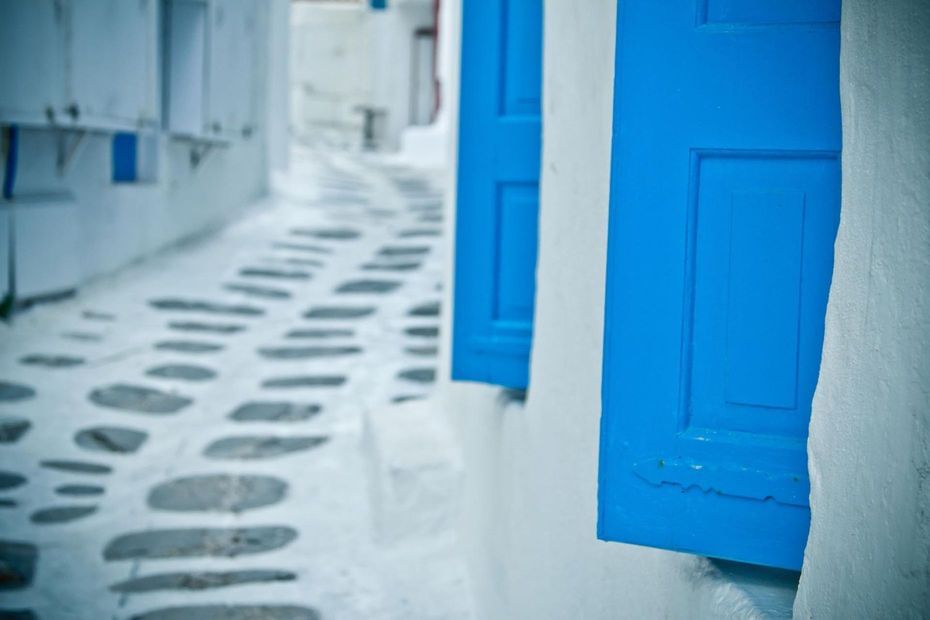 MYKONOS: RELAX, SUN, BEACH AND HISTORY
Free day to enjoy this magnificent island. Mykonos is the meeting point of the international "jet set", famous for its wonderful beaches, the dazzling shops and vibrant nightlife.
The island's cuisine is mainly Mediterranean, which means that vegetables and olive oil are an integral part of the daily menu, together with certain spices (oregano, basil ...) as well as fish and seafood dishes.
Just a short distance away by ferry, there is the historic island of Delos, which, according to Greek mythology, was the birthplace of Apollo and Artemis. This small island, inhabited since 3000 B.C., was one of the most important cultural centers of antiquity.
Greca Tip: We recommend hiring a car or a motorcycle to venture out on the island, experience the local customs and feel like a Mykonian too.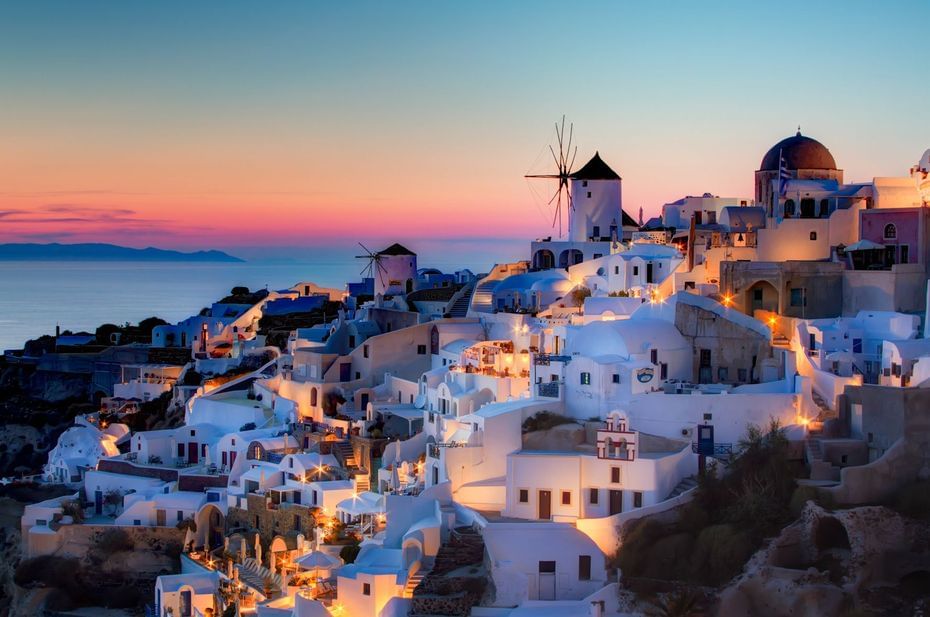 FROM MYKONOS TO MAGICAL SANTORINI
After a tasty breakfast, appreciating life like a Greek, we will pick you up at the agreed time, in one of our private vehicles, to drive you to the port, where you will continue on to your next destination, the island that is an inexhaustible source of inspiration, Santorini. As the ferry approaches the port, you will admire the capital city of Fira, with its white houses perched on the cliffside and facing the volcano.
Upon disembarkation, one of our English-speaking representatives will welcome you, escort you to your hotel and introduce you to some of the most outstanding features of this picturesque island. The rest of the day is free for you to wander through the narrow streets and become part of this amazing world.
Greca Tip: Sit back and enjoy one of the most beautiful sunsets in the world from one of the coffee shops in glamorous Oia.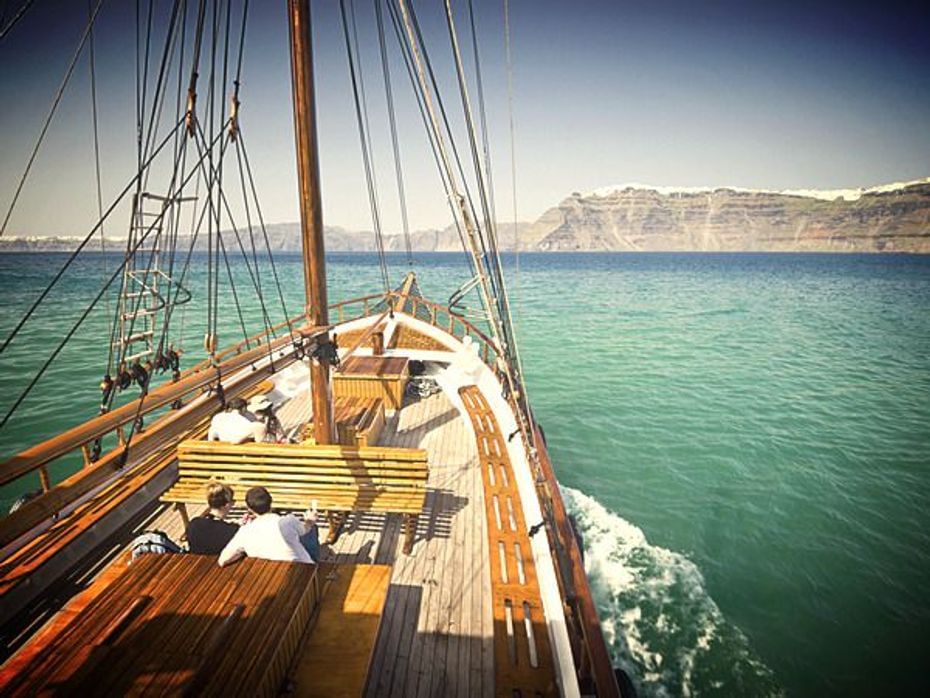 DISCOVERING SANTORINI
Free day to explore, at your own pace, the magical island of Santorini, considered to be the lost continent of Atlantis. The name of the island was given by the Venetian Giacomo Barozzi due to the presence of a chapel dedicated to Saint Eirini.
Optionally, you may choose to go on a dazzling sailboat tour that will take you over to the small islands of Santorini Caldera, Nea and Palea Kameni, with the hot springs of green and yellow waters.
Greca Tip: On this free day, we recommend exploring the island, tasting its wine and its excellent local cuisine. We cannot miss tasting the tomato keftedes (a kind of tomato balls), the fava dishes (a vegetable smaller than a pea), and the cheese called Chloro. Here is a catamaran cruise with wine tasting in Santorini you may want to take.

FROM SANTORINI TO ATHENS - THE RETURN
As the time arrives, we will transfer you to Santorini Airport for your return flight to Athens. Rest assured that your arrival at the airport will align conveniently with your international flight, ideally scheduled for departure after 12:30 PM.
It has been a pleasure hosting you during these wonderful days with Greca, and we eagerly look forward to welcoming you back in the future to create more extraordinary moments that will forever hold a special place in your heart.
Wishing you a pleasant journey! Or as the Greeks say, "Kalo taksidi!"
If you wish to extend your stay in Santorini, feel free to add more nights during the reservation process.
Greca Tip: Consider purchasing the classic Assyrtiko wine or the sweet Vinsanto from Santorini. You can find them at local shops or take advantage of the duty-free selection at Athens Airport, which offers a delightful array of Greek wines and spirits.