Check Availability & Price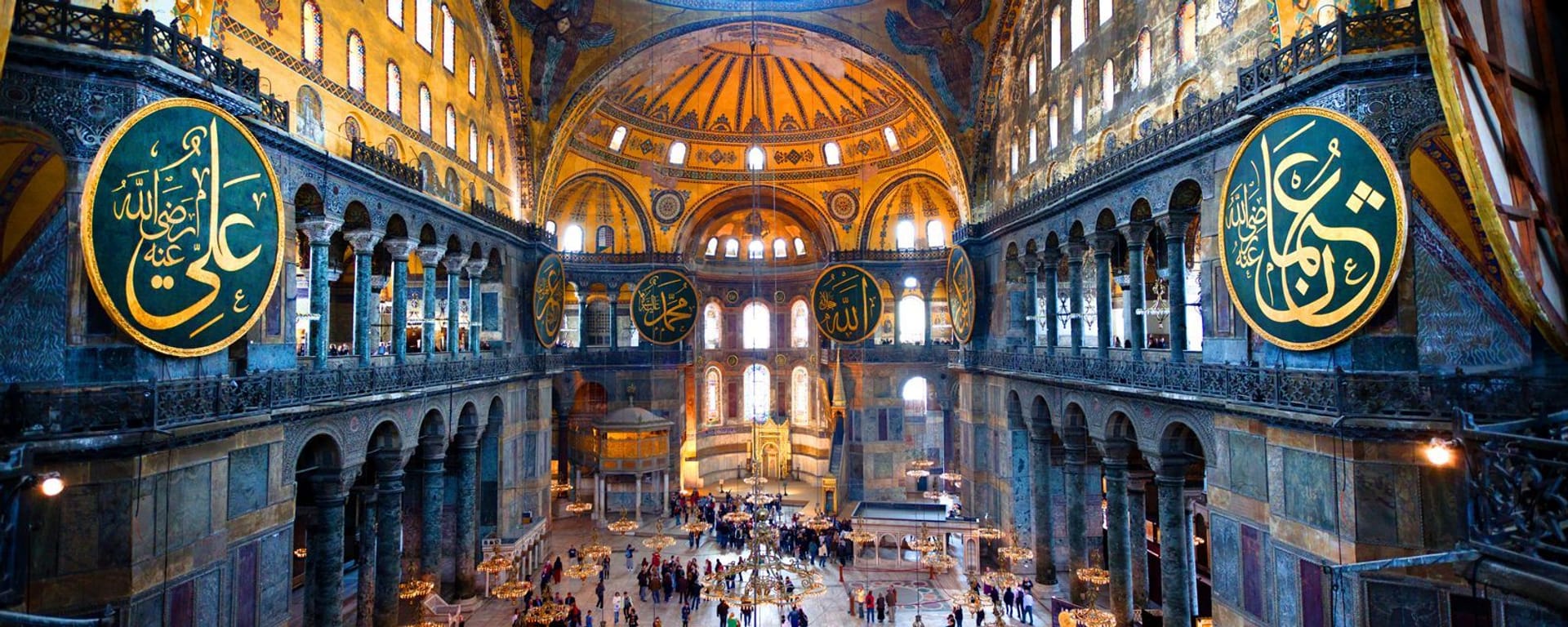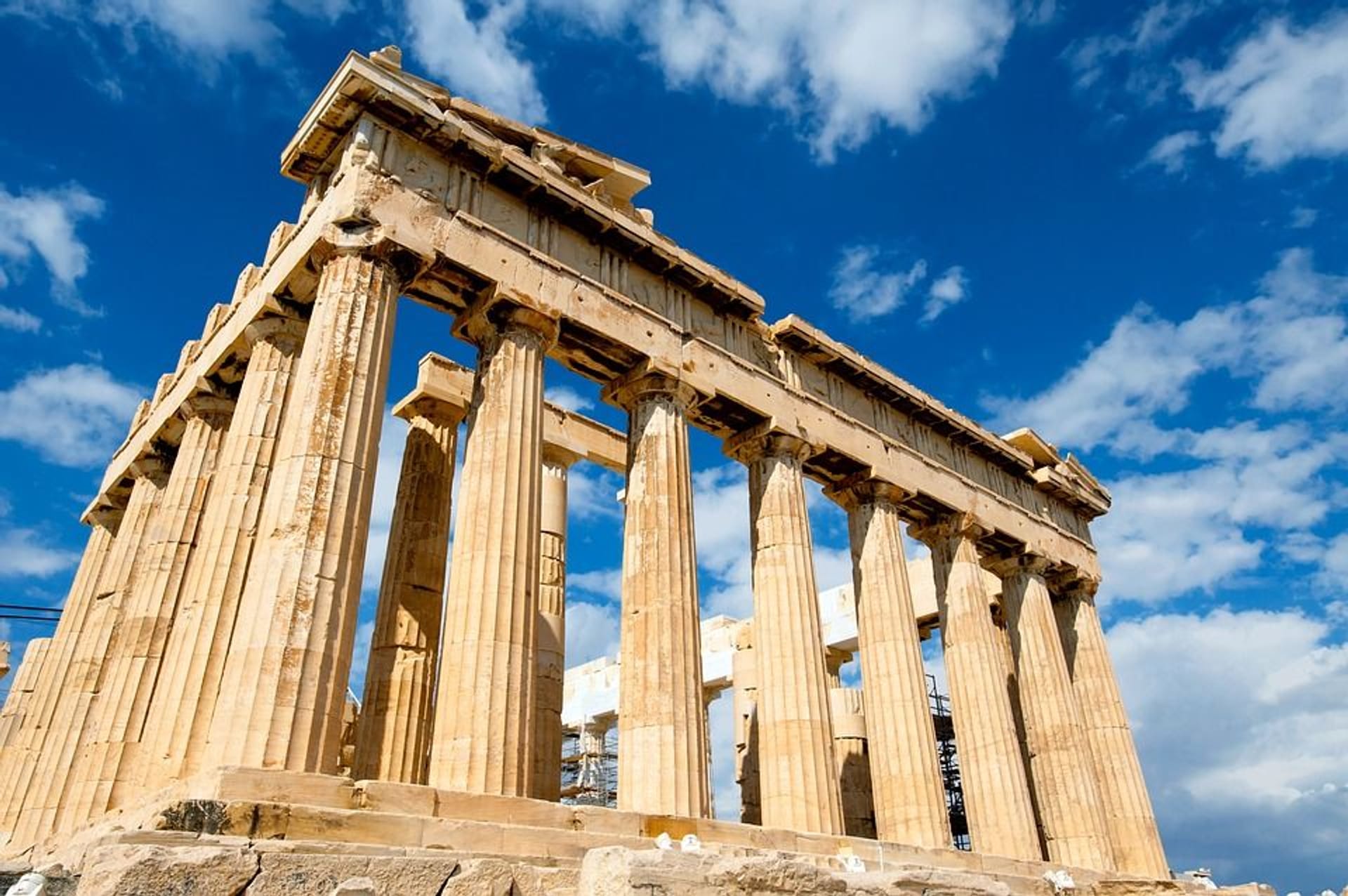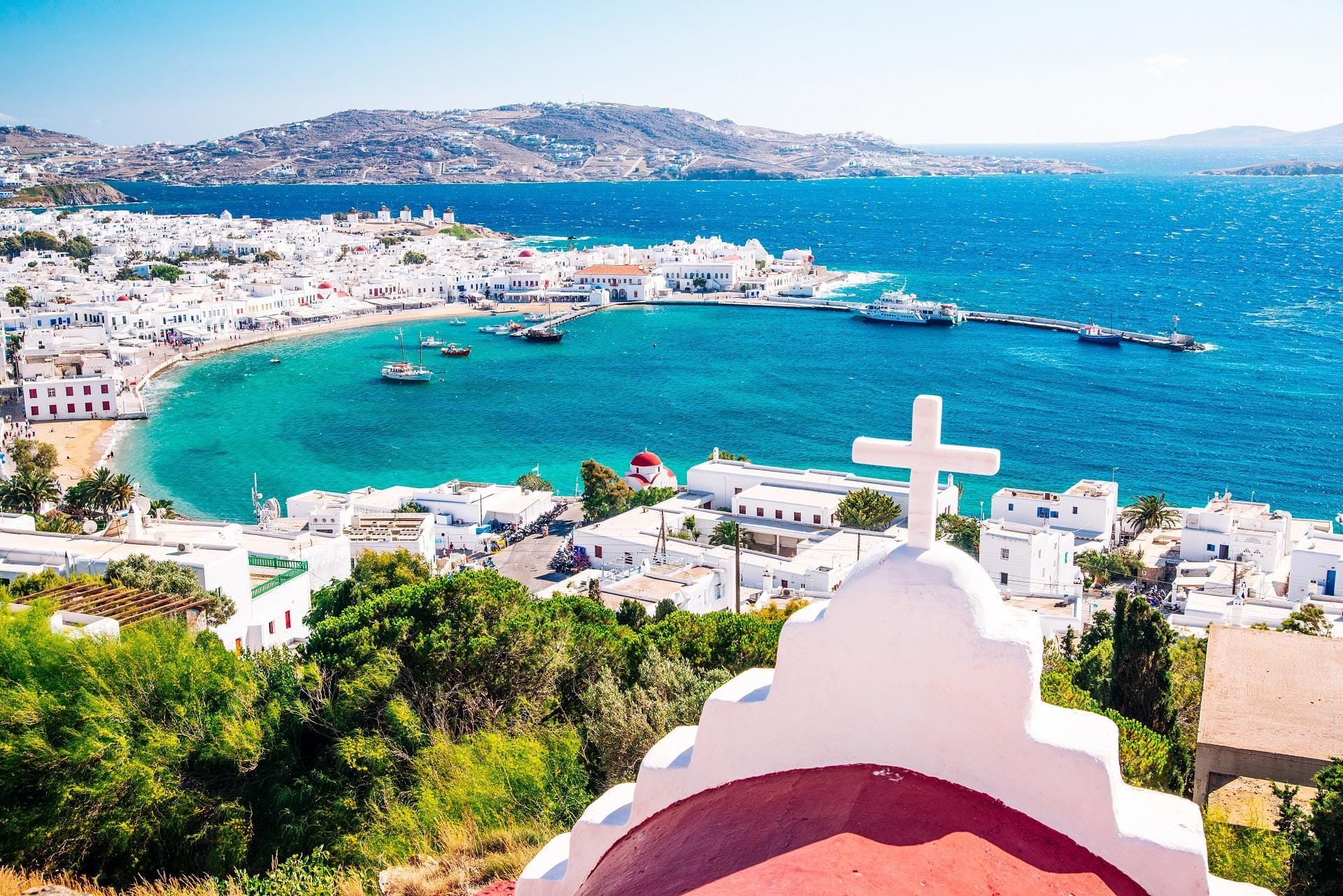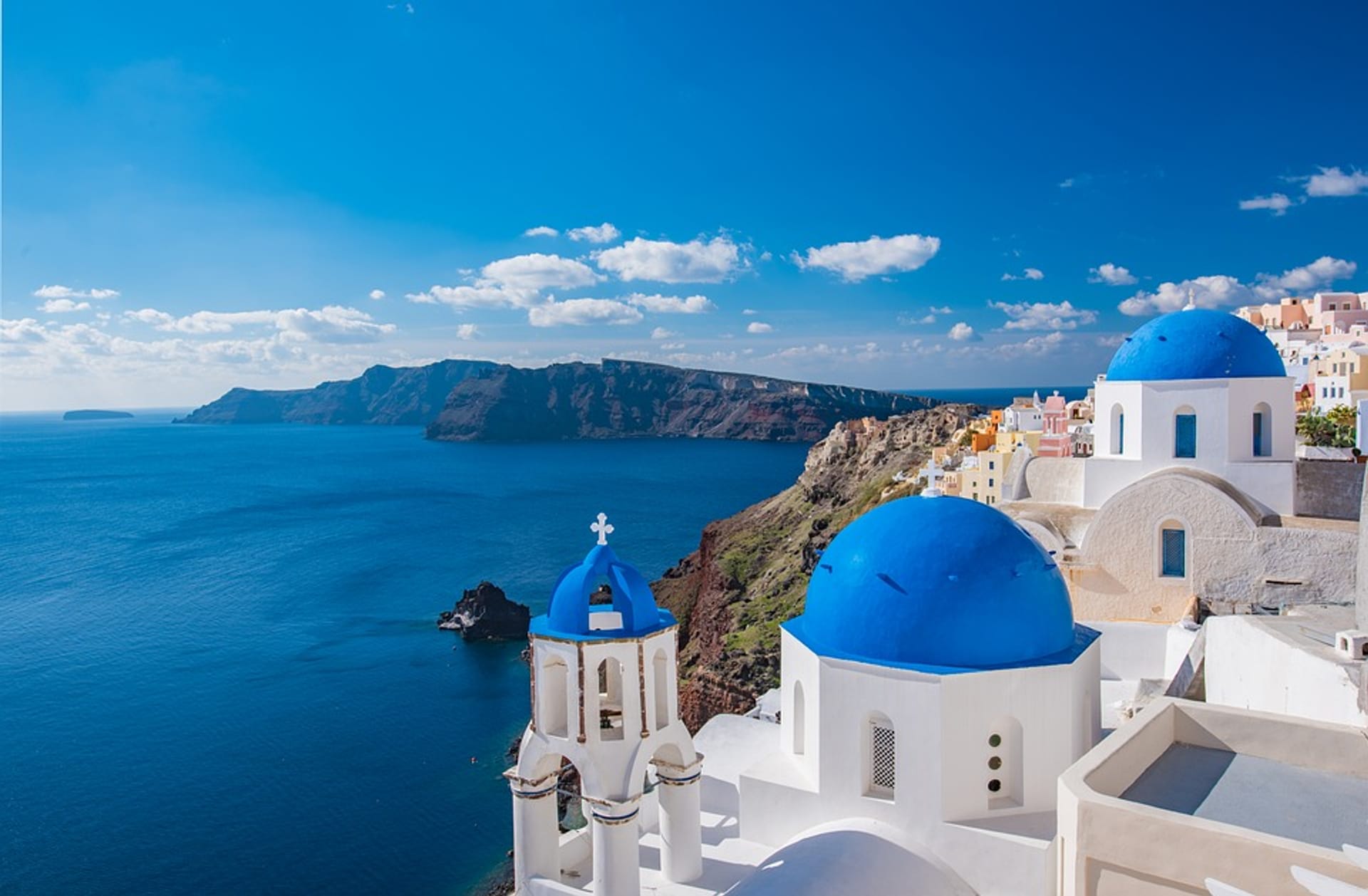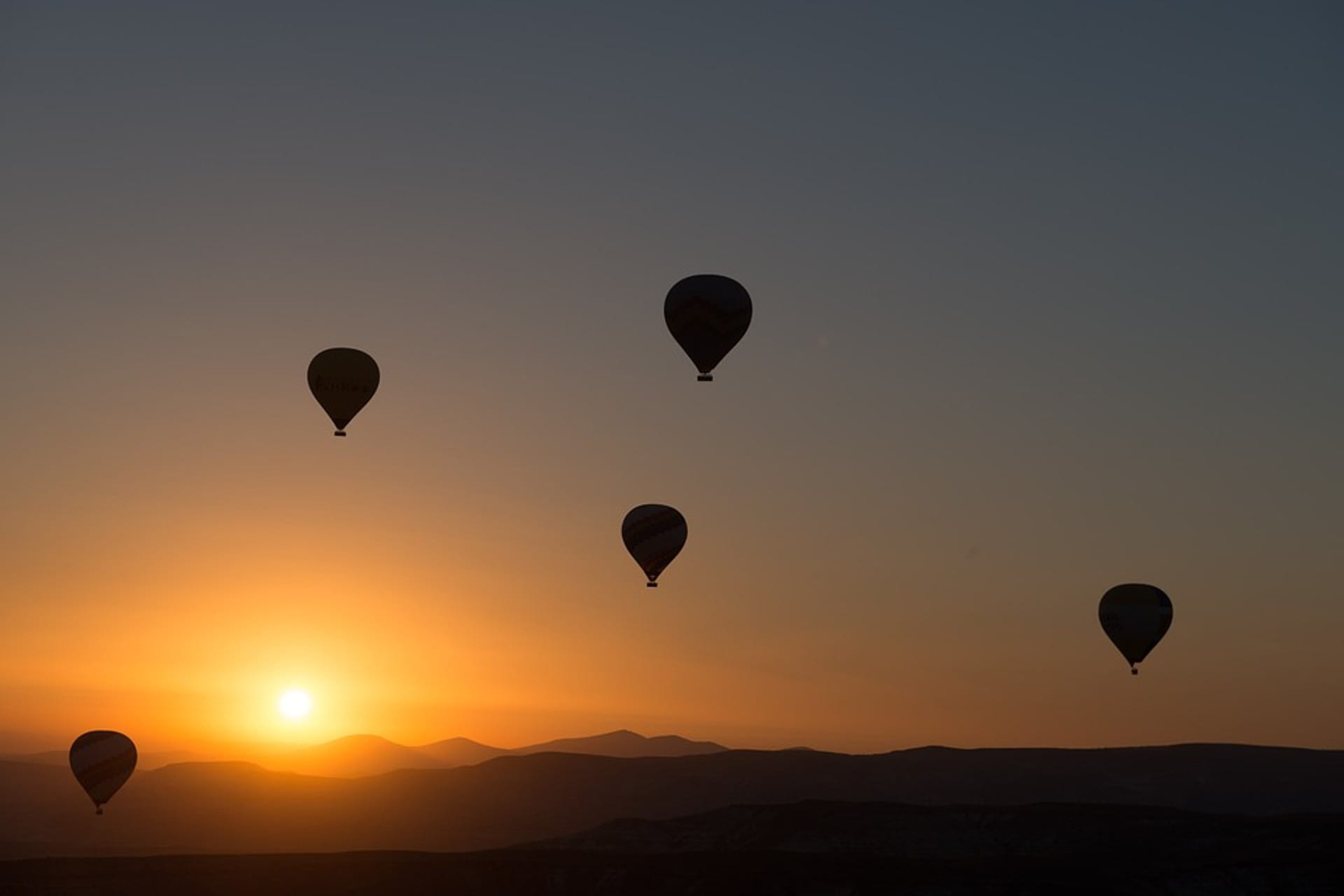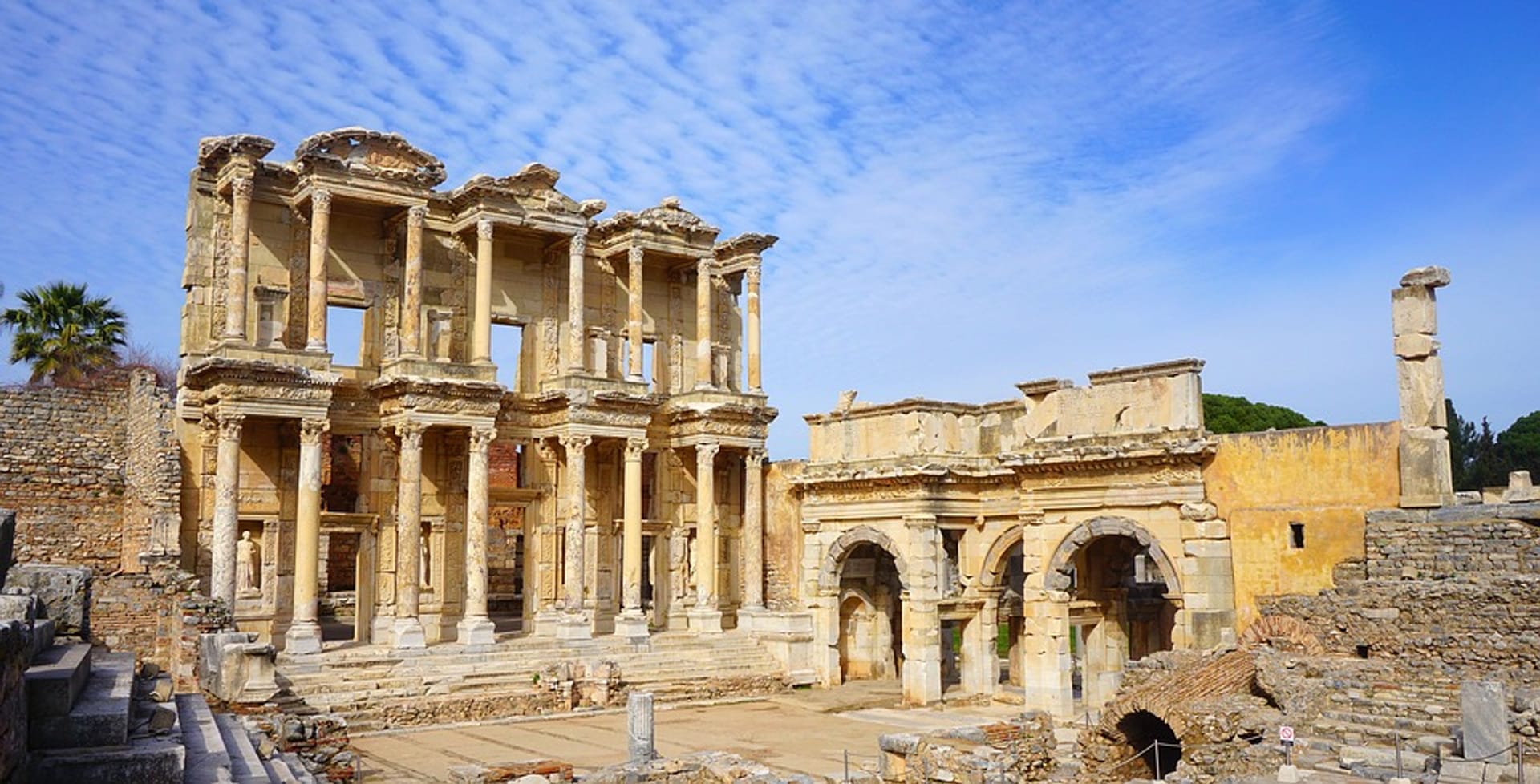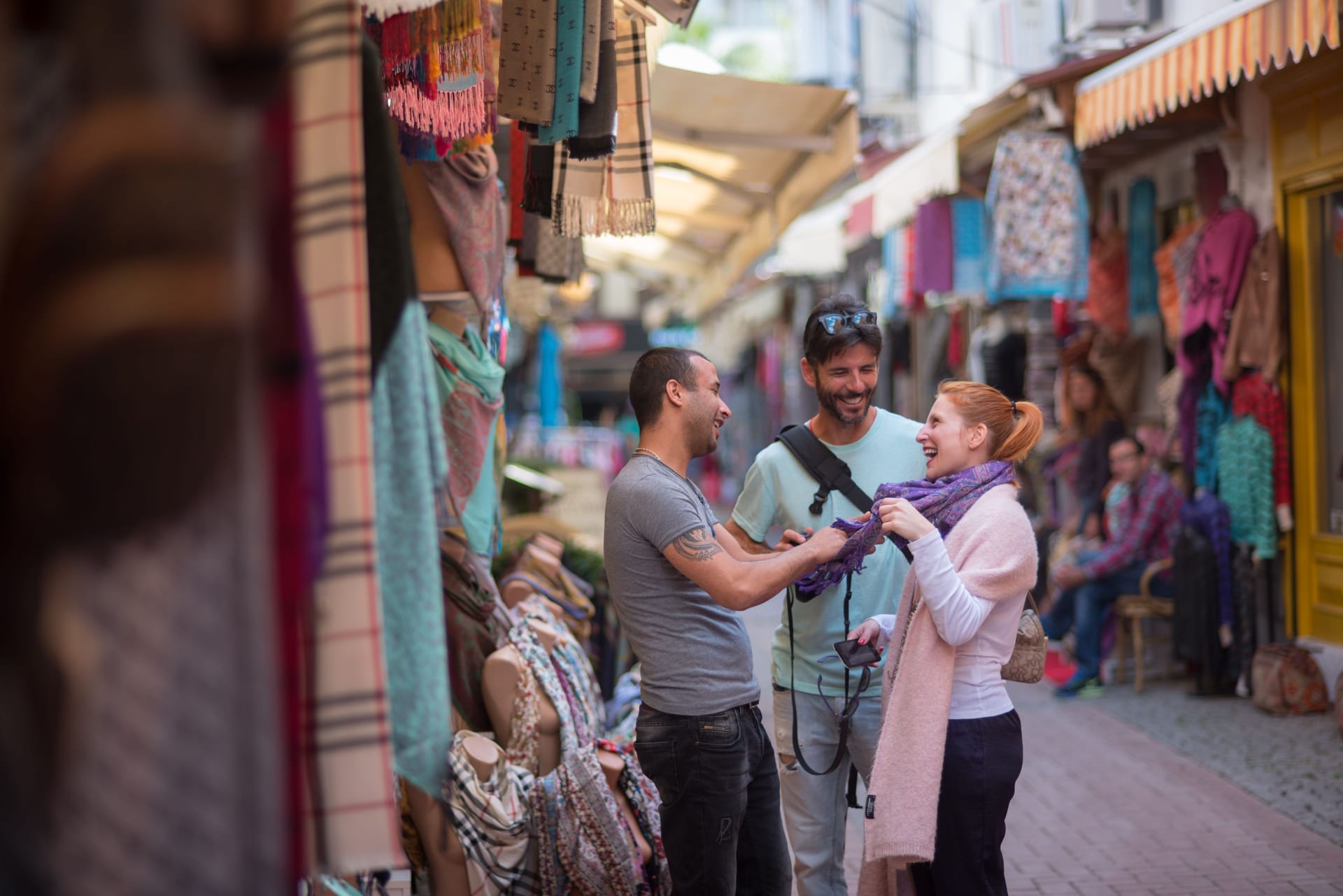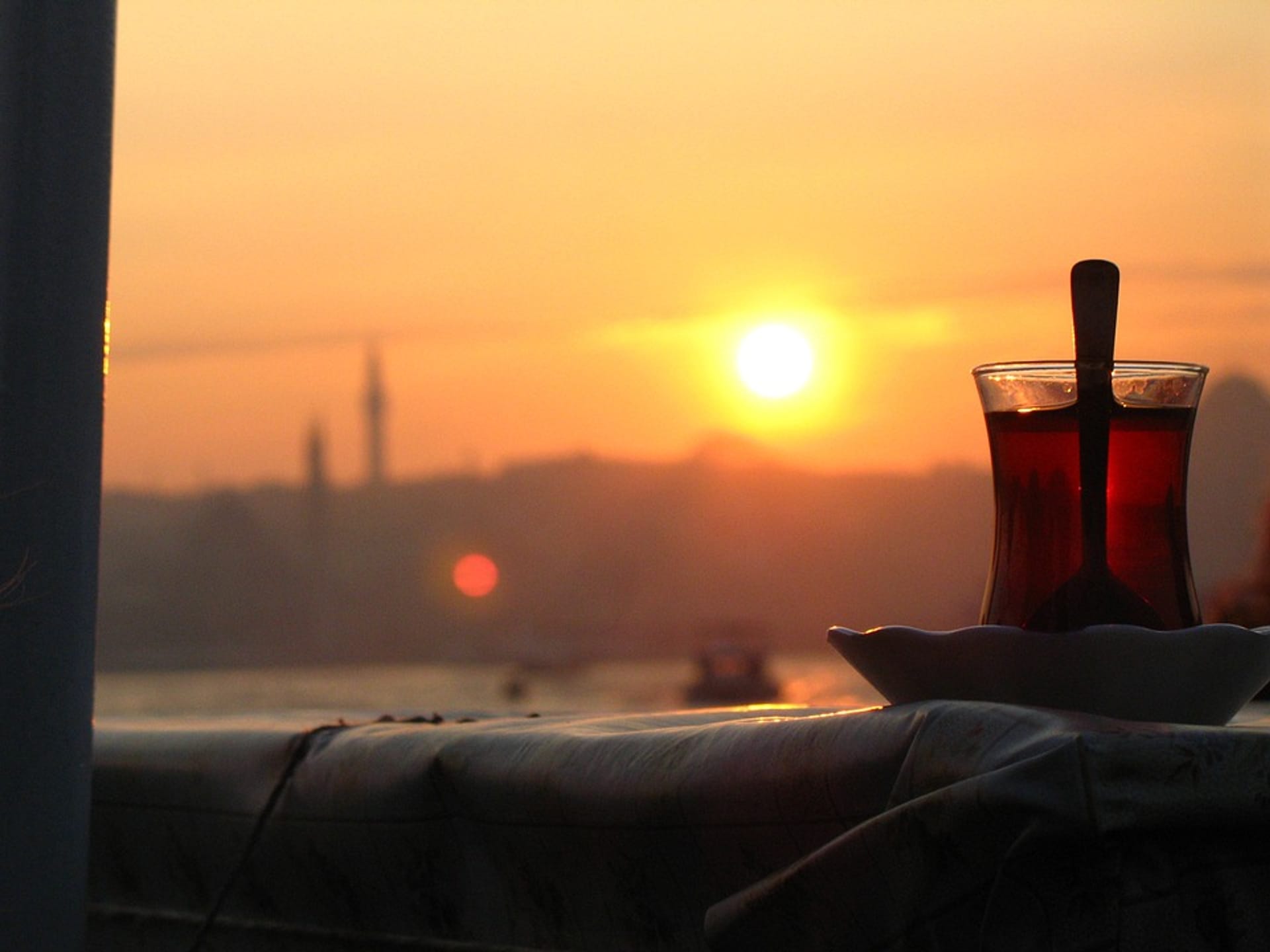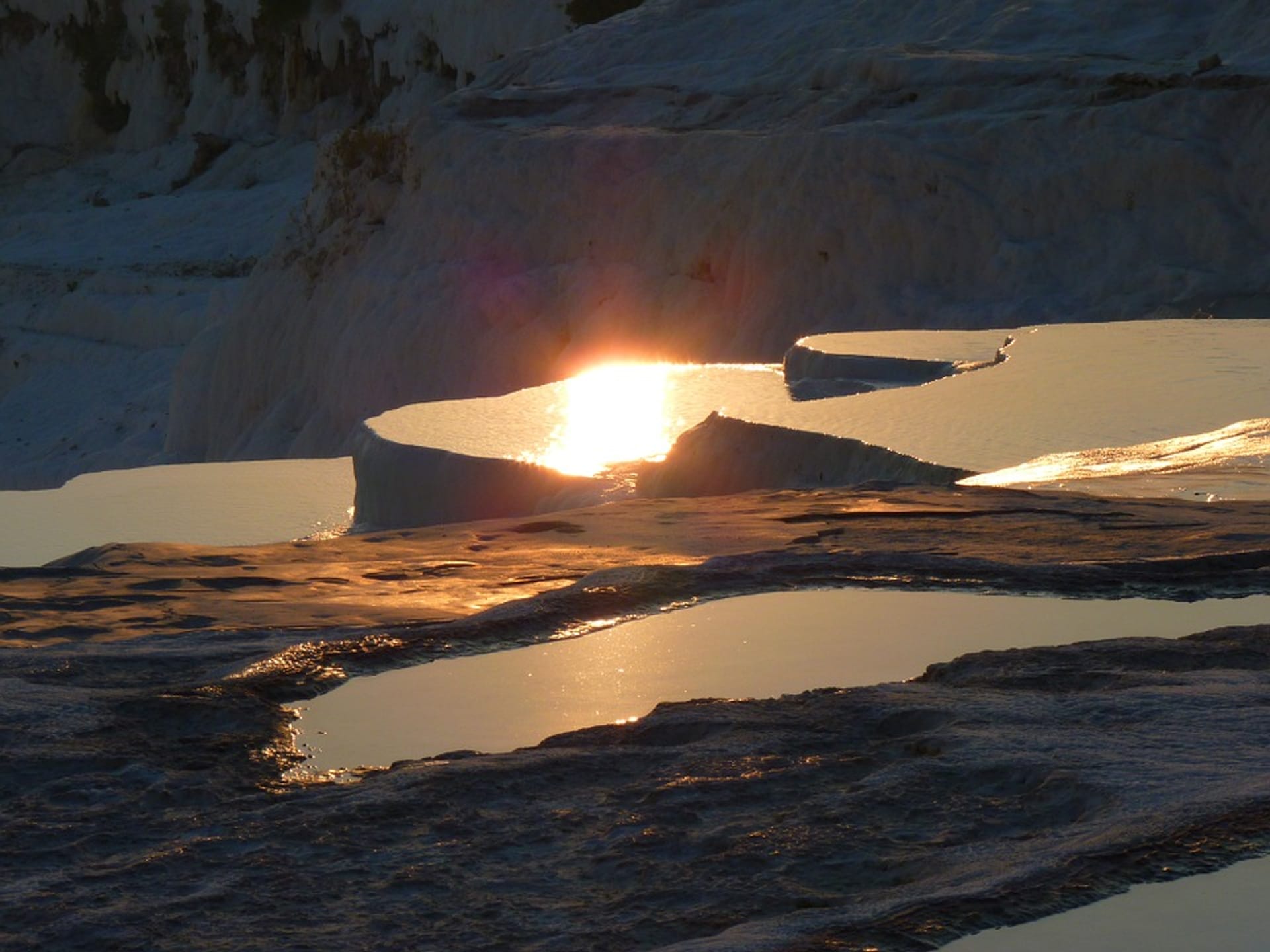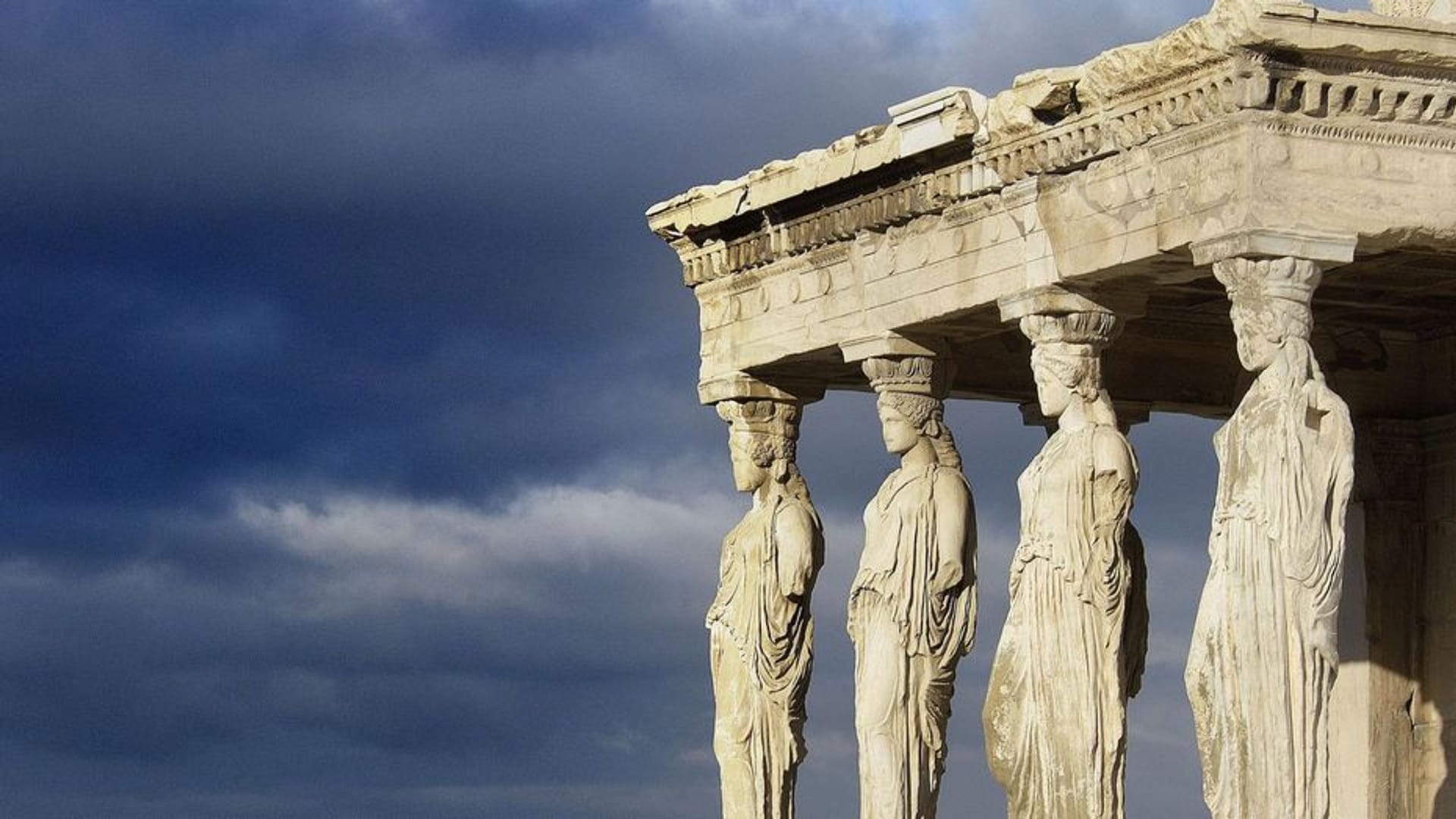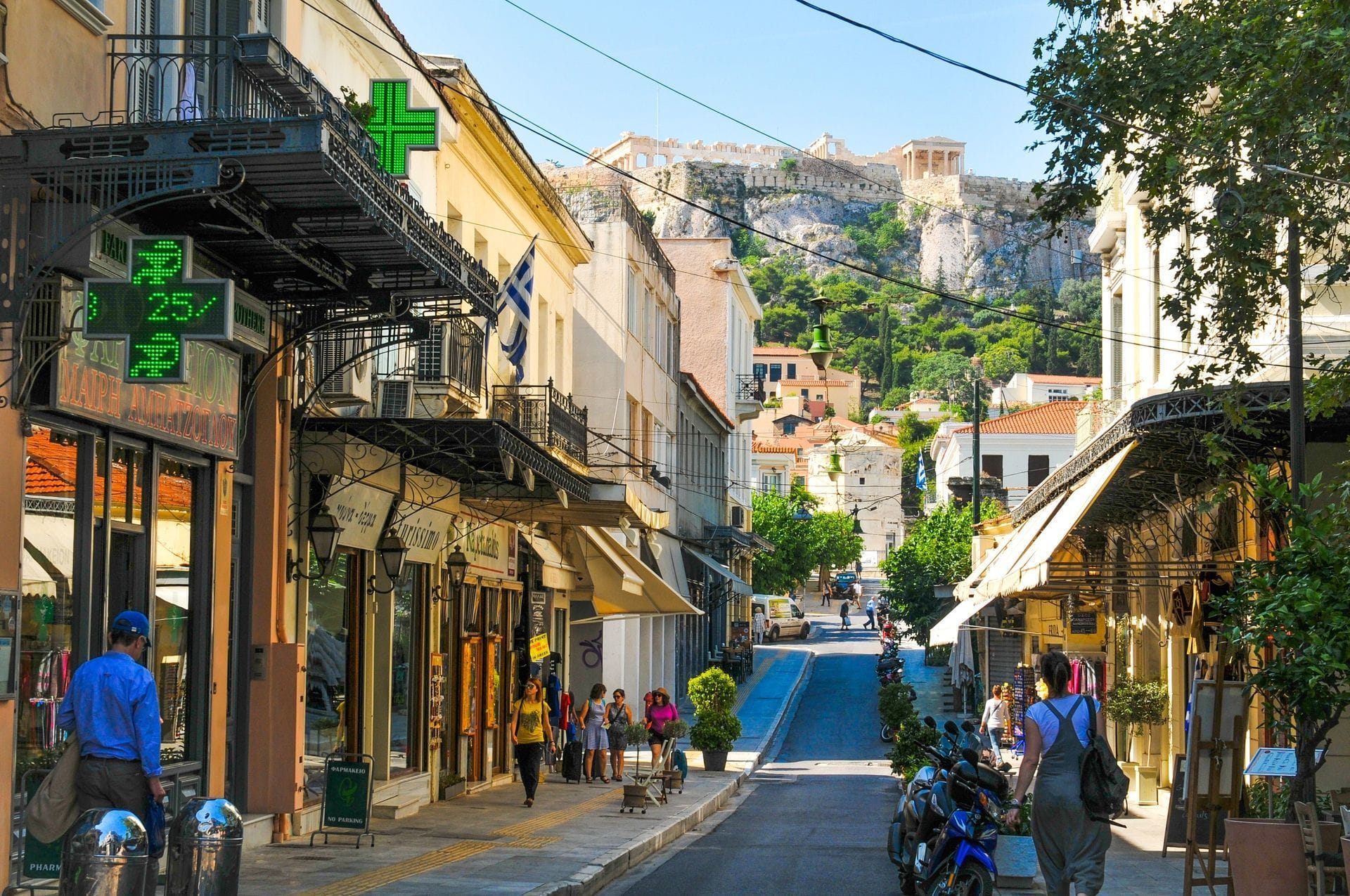 TWO CONTINENTS
Two Continents
Athens, Mykonos, Santorini, Istanbul, Cappadocia, Pamukkale, Kusadasi, Ephesus and much more
Book Now! All our programs in up to 12 installments without interest
What is included in this package
2-night accommodation in Athens.
2-night accommodation in Mykonos.
2-night accommodation in Santorini.
3-night accommodation in Istanbul.
Tour through inland of Turkey with local English-speaking guides and Half Board.
2-night accommodation in Cappadocia in 4* or 5* hotels.
1-night accommodation in Pamukkale in 4* or 5* hotels.
1-night accommodation in Izmir in 4* or 5* hotels.
Full-day city tour in Istanbul with an official English-speaking guide and lunch.
Half-day sightseeing tour in Athens with an official English-speaking guide.
Visit to the Acropolis Museum with an official English-speaking guide.
Entrance fees to the archaeological sites as per description.
Guided evening walking tour through Monastiraki, Plaka and Anafiotika.
Air ticket Istanbul-Cappadocia (15 kg + 8 kg).
Air ticket Izmir-Istanbul (15 kg + 8 kg).
Air ticket Istanbul-Athens (23 kg + 8 kg).
Air ticket Santorini-Athens (23 kg + 8 kg).
Ferry tickets with numbered seats Piraeus-Mykonos.
Fast ferry tickets with numbered seats Mykonos-Santorini.
All transfers as mentioned in this itinerary.
24/7 emergency phone line.
Daily breakfast.
Hotel taxes in the inland of Turkey.
Not included & Optionals
Personal expenses, tourist city tax in Greece & Gratuities (optional).
International air tickets.
Add Fast ferry

by clicking on "Customize your Program" or in step 1 of the reservation.

Add extra nights in Istanbul, Athens, Mykonos or Santorini

by clicking on "Customize your Program" or in step 1 of the reservation.

Travel with absolute peace of mind by adding our cancellation and/or health insurance in step 1/3 of your booking.

Check our FAQs section for more information on hotel categories and properties.
10% discount for groups of 10 travelers or more.
IMPORTANT:
Please note that the Grand Bazaar in Istanbul is closed on Sundays.
From 01/01/2023 the "Blue Mosque" will remain closed for repairs, so we will visit its gardens and have the opportunity to see the exterior of this magnificent monument.
Customize it now
Easy and risk free. We will clear up your doubts!
We'll reply in less than 24hrs. Contact us Now!
Package Tour Itinerary: Two Continents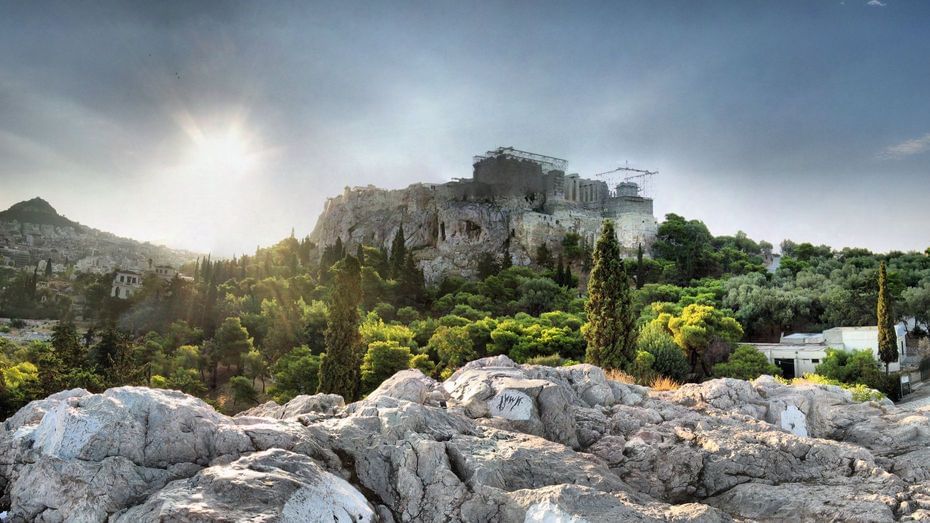 ATHENS - CRADLE OF CIVILIZATION
Upon your arrival in the mythical city of Athens, you will be greeted with a seamless transfer to your hotel in one of our vehicles, where your professional and friendly English-speaking driver will ensure your comfort and convenience throughout the journey.
Later in the afternoon, at an agreed time, our representative will meet you at the hotel to provide all the essential details of your trip. They will also offer a captivating presentation of the city, sharing insights into its everyday way of life. This is an excellent opportunity for you to ask any questions and have any doubts dispelled, ensuring a smooth and enjoyable experience throughout the rest of your trip.
You will have the remainder of the day free to relax and explore Athens at your own pace, taking in the sights, sounds, and flavors of this remarkable city.
Greca Tip: Extend your stay by adding more nights during Step 1 of 3 of your booking!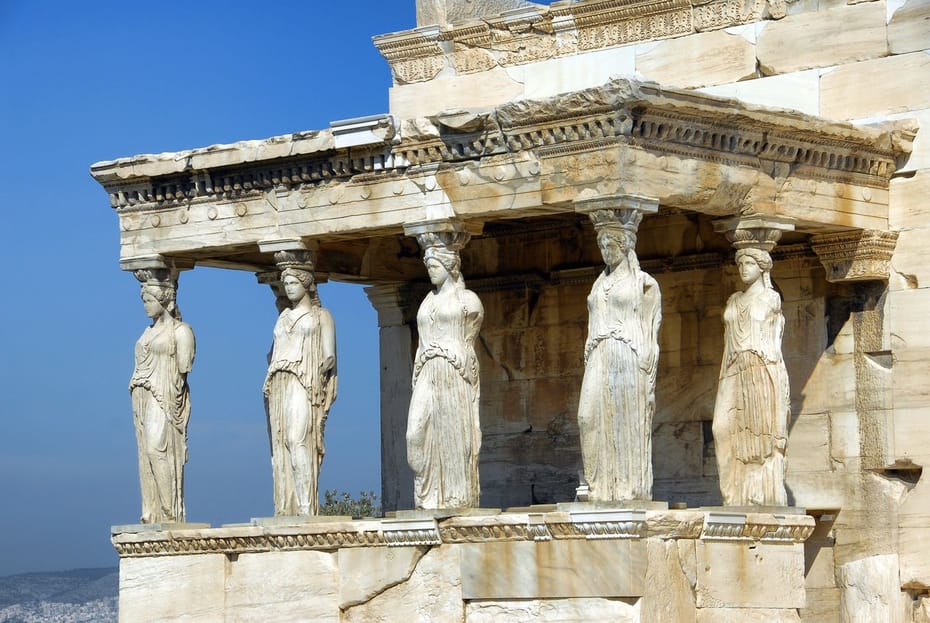 ATHENS SIGHTSEEING WITH ACROPOLIS, TEMPLE OF ZEUS, TRILOGY & ATHENS BY NIGHT
Begin your day with a delightful breakfast before embarking on our panoramic tour of the Athenian Neoclassical Center.
Prepare to be amazed as we visit iconic landmarks such as the Parliament, Tomb of the Unknown Soldier, University, Library, National Academy, Ilion Palace, Temple of Zeus, Hadrian's Gate, Panathenaic Stadium, and many more captivating sites. Our knowledgeable English-speaking tour guide will share fascinating insights into their rich history and significance.
Next, we'll make our way to the awe-inspiring "sacred rock", the magnificent Acropolis and the renowned Acropolis Museum. Rest assured, the entrance fees for both sites are included. After exploring these remarkable treasures, you'll have the choice to return to your hotel or venture into the charming and picturesque streets of Plaka for your own adventure.
In the evening, we've curated a guided walking tour through the enchanting districts of Anafiotika, Thissio, Monastiraki, and Plaka, showcasing the true beauty of the capital.
Greca Tip: Don't miss the opportunity to explore the delightful shops in Plaka, offering alluring items like ceramics, musical instruments, handmade jewelry, and specialty food shops overflowing with olives and spices. It's a shopper's paradise waiting to be discovered!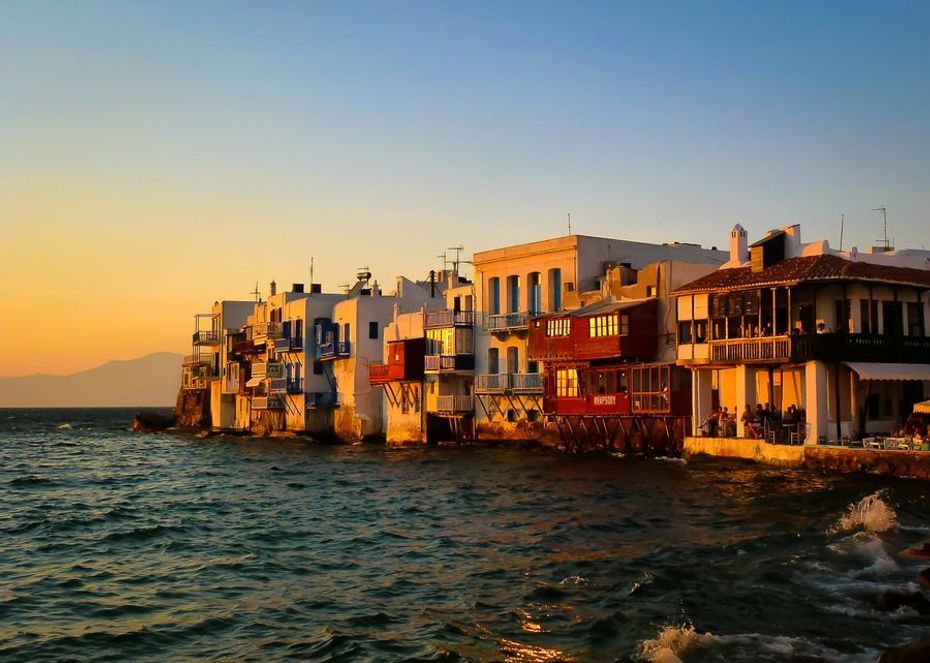 FROM ATHENS TO MYKONOS - NAVIGATING THE AEGEAN LIKE ODYSSEUS
Embark on an exciting journey as we transfer you to the vibrant port of Piraeus. From there, you'll set sail on a ferry bound for the famous island of Mykonos. Bask in the perfect timing of the crossing, enjoying the sun-drenched deck and immersing yourself in the captivating shades of the Aegean Sea.
Mykonos, known as the "heap of stones" or the "rocky place," holds a rich history. According to legend, it was named after Mykonos, the heroic son of King Anius of Delos. As you arrive on this cosmopolitan island, our friendly English-speaking representative will warmly welcome you. They'll assist with your hotel transfer and introduce you to the enchanting charms of Mykonos.
The remainder of the day is yours to unwind and embrace the laid-back island lifestyle. Immerse yourself in the unhurried pace embraced by the locals, allowing yourself to truly relax and soak in the beauty of Mykonos.
Greca Tip: For a swifter journey, consider selecting a fast ferry during the reservation process.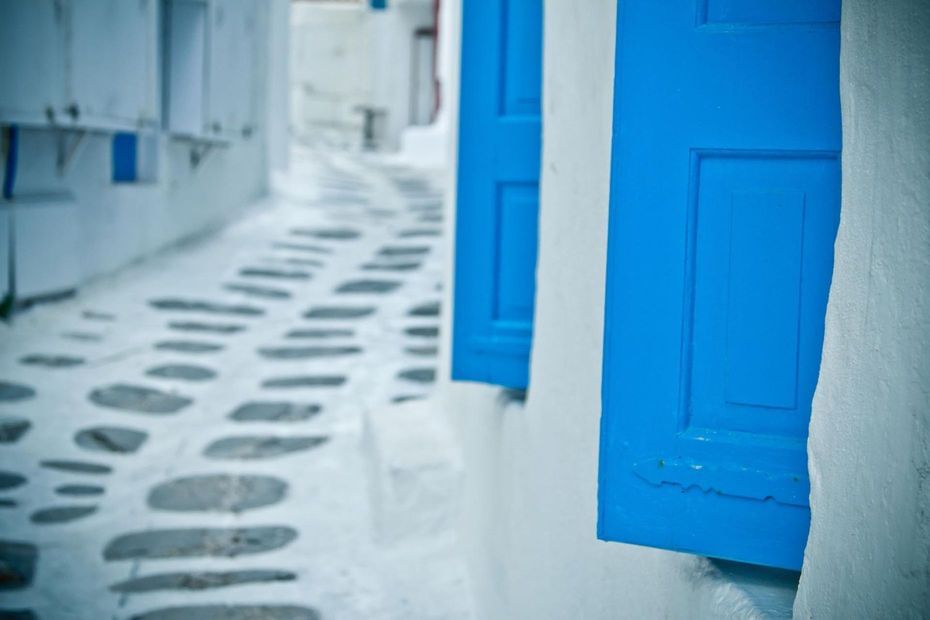 MYKONOS: RELAX, SUN, BEACH AND HISTORY
Free day to enjoy this magnificent island. Mykonos is the meeting point of the international "jet set", famous for its wonderful beaches, the dazzling shops and vibrant nightlife.
The island's cuisine is mainly Mediterranean, which means that vegetables and olive oil are an integral part of the daily menu, together with certain spices (oregano, basil ...) as well as fish and seafood dishes.
Just a short distance away by ferry, there is the historic island of Delos, which, according to Greek mythology, was the birthplace of Apollo and Artemis. This small island, inhabited since 3000 B.C., was one of the most important cultural centers of antiquity.
Greca Tip: We recommend hiring a car or a motorcycle to venture out on the island, experience the local customs and feel like a Mykonian too.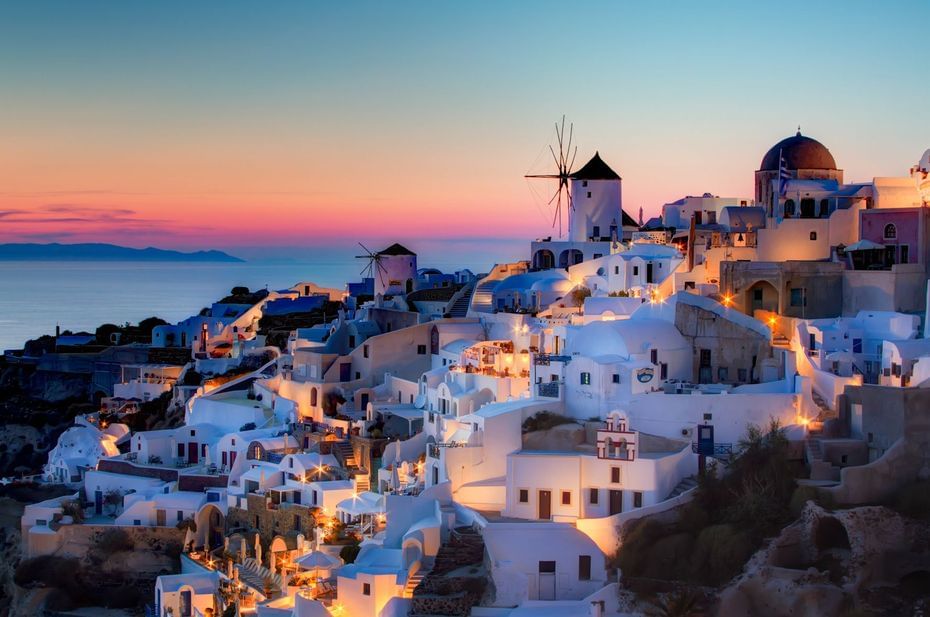 FROM MYKONOS TO THE MAGICAL ISLAND OF SANTORINI
After a tasty breakfast, appreciating life like a Greek, our representative will pick you up at the agreed time, in one of our private vehicles, to drive you to the port, where you will continue to your next destination, the island which is an inexhaustible source of inspiration, Santorini. Approaching the island, you will have the opportunity to admire the capital city of Fira, with its white houses perched on the cliffside and facing the volcano.
Upon your arrival, one of our English-speaking representatives will be waiting for you at the port to welcome you, escort you to your hotel and comment a little more on the attractions of this picturesque island. The rest of the day is free to wander through the narrow streets and become part of this amazing world.
Greca Tip: Sit back and enjoy one of the most beautiful sunsets in the world from one of the coffee shops in glamorous Oia.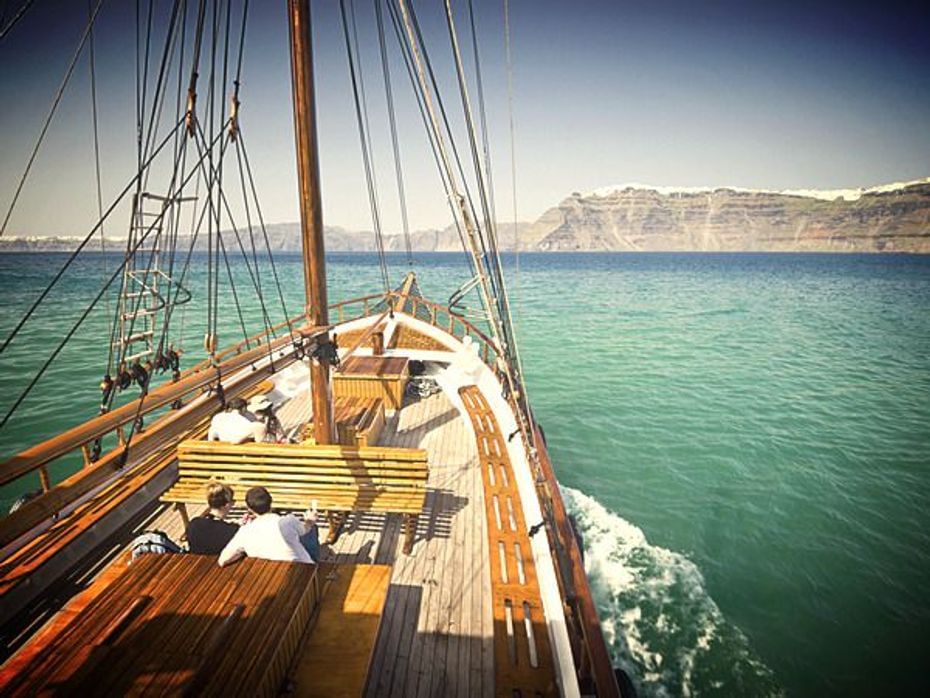 DISCOVERING SANTORINI
Free day for you and your companion to explore this magical island, considered to be the lost continent of Atlantis, at your own pace. The name of the island was given by the Venetian Giacomo Barozzi due to the presence of a chapel dedicated to Saint Eirini. His descendants remained until 1576, when it became part of the Duchy of Naxos and until the Turkish conquest by Piyale Pasha.
Optionally, you can go on a dazzling sailboat tour that includes visits to the small islands inside the caldera, Nea and Palea Kameni, with the hot springs of green and yellow waters.
All the time, the capital city of Fira will never be far away, but will feature superbly in the background throughout the cruise tour.
Greca Tip: We also recommend hiring a car in order to find out more about this island, taste its wine and its excellent local cuisine.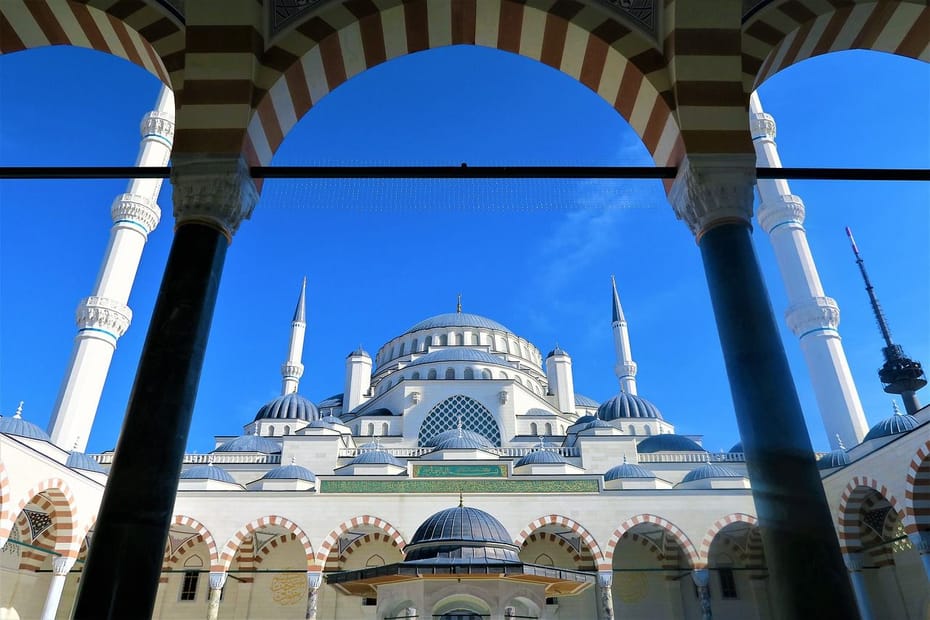 GOODBYE SANTORINI - HELLO ISTANBUL
At the time indicated you will be transferred to Santorini airport to board your flight to Istanbul via Athens.
After your arrival in the city that was once Byzantium (and later Constantinople), an English-speaking assistant will be waiting for you at the airport. He will inform you about all the details of your itinerary, answer your questions and offer you a brief presentation of the city and its day to day life.
The transfer to your hotel will take place in one of our private vehicles and your assistant will help you with the check-in. The rest of the day will be free for you to relax and start enjoying this stunning city.
Greca Tip: Head to Ortaköy, the area for upmarket chic, where you will also find a strip of stands serving kumpir, Turkey's answer to the jacket potato. Pick your spud and toppings and savor the seaside views while you eat on your feet.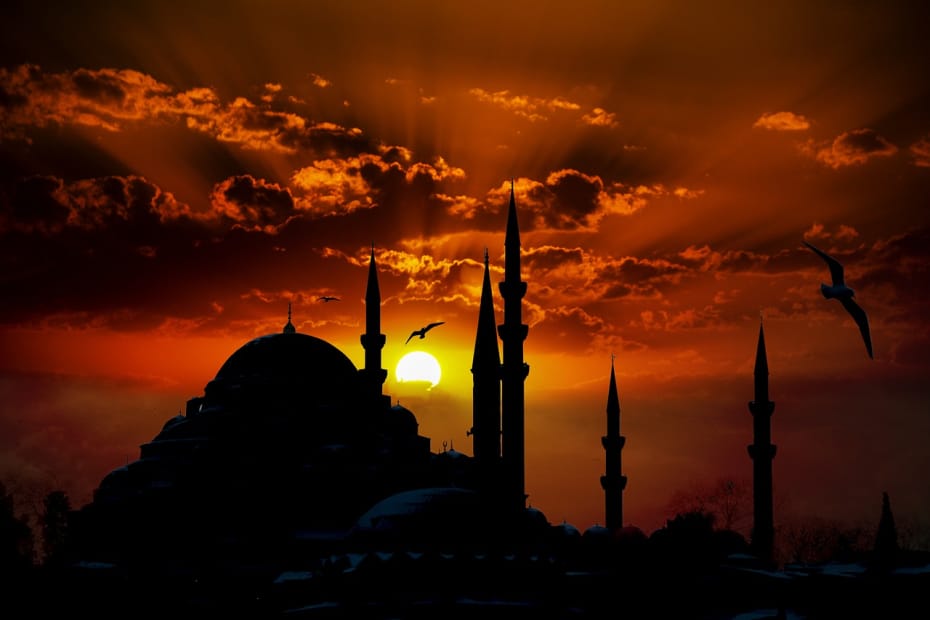 FULL DAY ISTANBUL CITY TOUR
After you've fueled up with breakfast, we'll swing by your hotel or the nearest meeting spot to kick off a full-day adventure exploring Istanbul, an incredible city.
Get ready for an epic experience with our friendly English-speaking guide, all-inclusive tickets, a scrumptious lunch at a fantastic central city restaurant, and visits to the most awe-inspiring landmarks passed down by the Ottoman, Byzantine, and Roman empires.
Also, brace yourself for the grandeur of Hagia Sophia, the thrilling Constantinople Racecourse, the stunning Blue Mosque, the majestic Topkapi Palace, and the bustling Grand Bazaar, where you'll find a whopping 4,000+ stores to explore.
Once the tour concludes, you're welcome to soak up the enchanting ambiance of the old city a little longer, savoring every moment. When you're ready, you can make your own way back to your hotel.
Greca Tip: For a jaw-dropping panoramic view of Istanbul, make sure to visit Camilca Hill on the Asian side. Feast your eyes on the sprawling cityscape, the Golden Horn, and the mesmerizing Bosphorus. It's a sight you won't want to miss!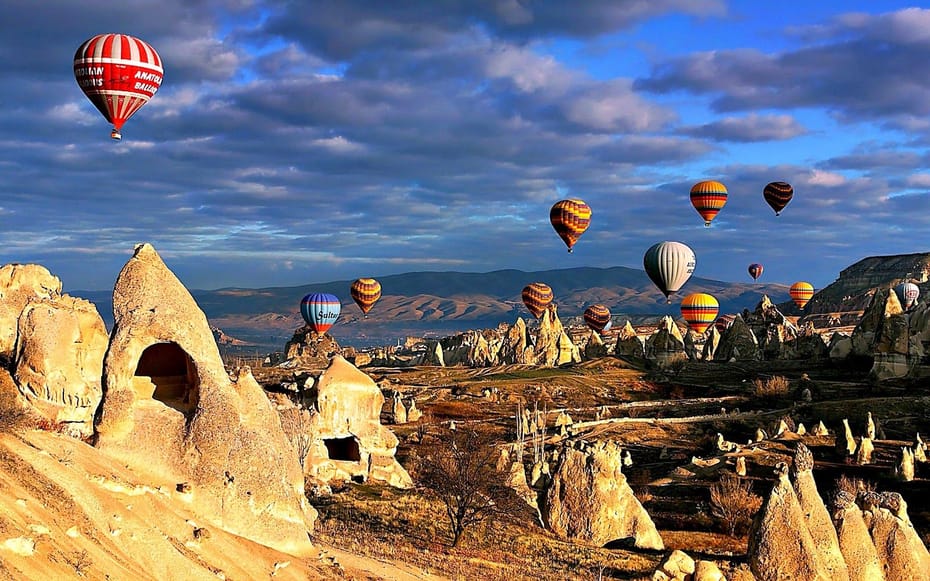 ISTANBUL - ANKARA - CAPPADOCIA
In the morning, your English-speaking assistant will pick you up from your hotel to transfer you to Istanbul airport to board your flight to the capital of Turkey, Ankara. In Ankara you will visit the important Museum of Anatolian Civilizations and the Mausoleum of Kemal Ataturk, a national hero and first president of the Republic of Turkey. At noon, you will continue to the magical and surprising Cappadocia, where you will have dinner and rest.
Greca Tip: Consult with your guide about the possibility of joining in an unforgettable hot air balloon tour in Cappadocia (subject to weather conditions).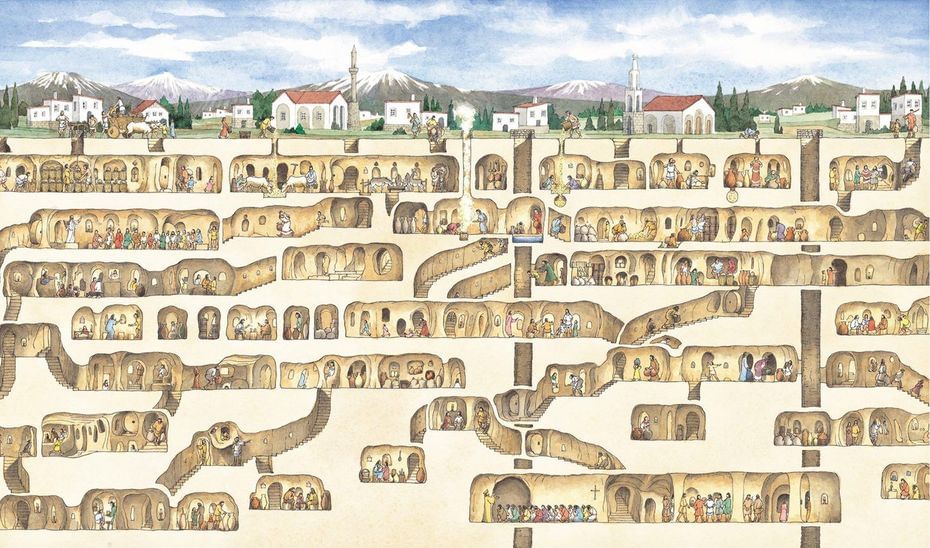 CAPPADOCIA - CENTRAL ANATOLIA
After a filling breakfast, you will dedicate the entire day to this wonderful region and the Turkish cities of Kirsehir, Nigde and Kayseri.
You will start at the town of Uçhisar, its troglodyte villages and the Underground City of Kaymakli, one of the largest underground settlements in the region. You will continue towards the Göreme Valley with its open-air museum, its churches carved into the rock and the beautiful frescoes on their walls. In the afternoon, you will visit the Pasabag Valley, with its amazing landscape of cave dwellings and famous limestone fairy chimneys and Avanos, a potterers' town with its countless pottery factories that date back to the Hittites. In this town an underground city was revealed only recently and consists of three floors, homes, tunnels and places of worship. In the late afternoon you will return to your hotel for dinner and a good rest.
Greca Tip: Remember that, inside the caves, flash photography is not allowed so as not to damage the wall paintings.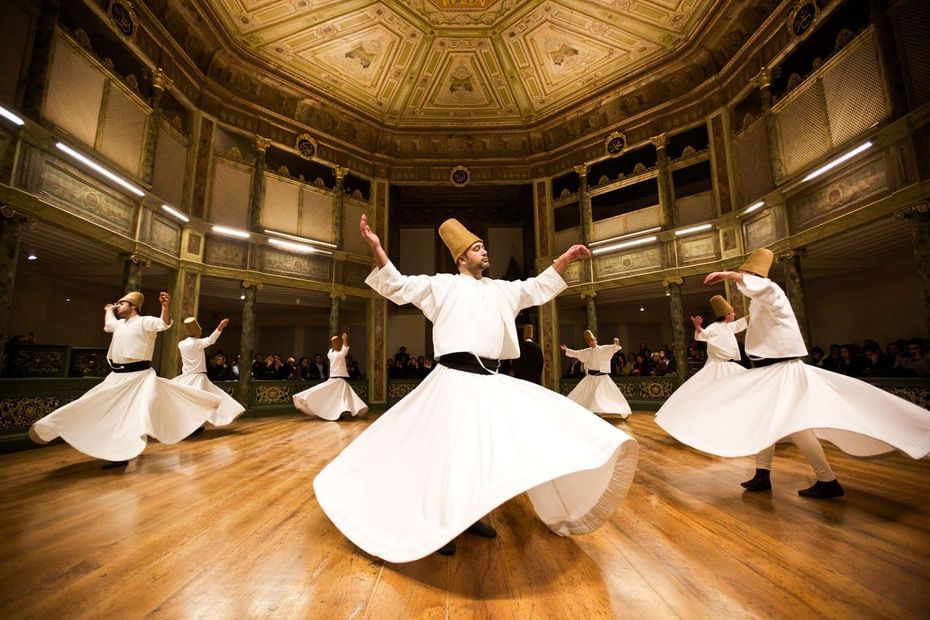 FROM CAPPADOCIA TO PAMUKKALE
In the early morning, following a delightful breakfast, we will commence our journey to Pamukkale, which translates to 'cotton castle' in Turkish.
En route, we will make a stop at the Old Palace and Medieval Fort of Caravanserai, located along the historic trade route leading to Persia. This remarkable site served as a haven for merchants, providing them with an opportunity to rest, replenish their supplies, and connect with fellow travelers.
Upon reaching Pamukkale, you will have ample free time to explore the city and uncover its treasures. Be sure not to miss the chance to visit the awe-inspiring travertine terraces, where you can witness the breathtaking white calcium cascades created by the hot thermal springs in the vicinity. The natural beauty of Pamukkale is truly mesmerizing.
After a day filled with exploration, we will indulge in a delicious dinner and retire to our hotel for a well-deserved rest.
Greca Tip: During your leisure time, why not take a dip in the thermal pool located at our hotel? It provides the perfect opportunity to unwind and experience the therapeutic benefits of natural thermal waters.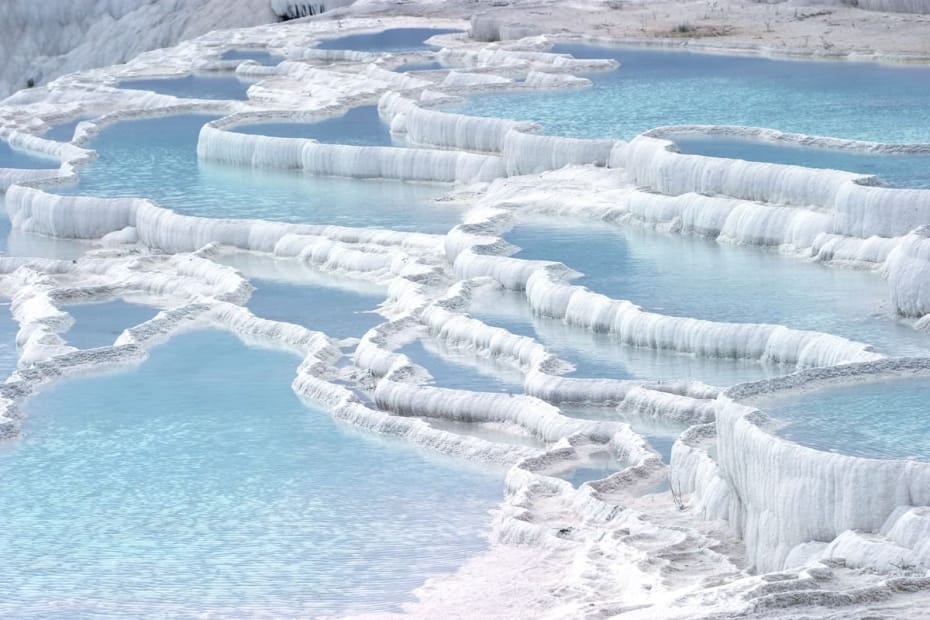 FROM PAMUKKALE TO KUSADASI
After breakfast, we'll explore Hierapolis, an ancient Hellenistic city recognized as a World Heritage Site. Witness the fascinating ruins of the Necropolis, ancient Roman baths, and the breathtaking natural park known as the "Cotton Castle," famous for its thermal waters and stunning beauty.
During our free time for lunch, we'll savor a delicious meal before visiting the pilgrimage site of Meryamana, believed to be the final resting place of the Virgin Mary.
Our journey continues to Ephesus, the ancient Roman capital of Asia Minor. Roam the streets where historical figures like Cleopatra, Marc Anthony, and Saint Paul once walked.
Besides, we'll marvel at well-preserved ruins, including the Odeon, the Arch of Hercules, the Library of Celsus, the Greco-Roman Theater, the Agora, and the Basilica of Saint John.
In the late afternoon, we'll transfer you to your hotel for check-in, followed by a delightful dinner and a well-deserved rest.
Greca Tip: "Kusadasi" means "Island of the Birds," although today it's known for its vibrant cruise ship scene!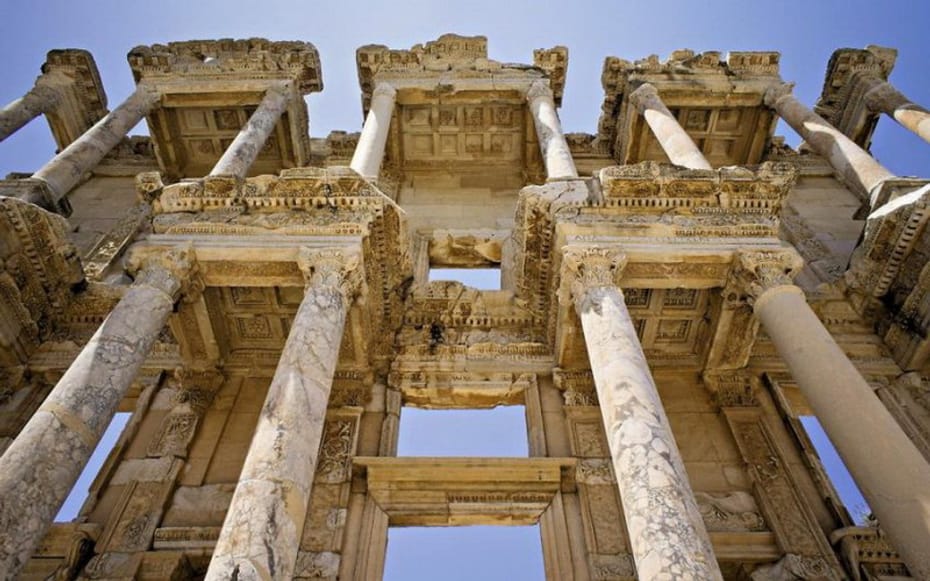 KUSADASI - IZMIR - ISTANBUL
Early in the morning, after a delicious breakfast, you will continue to Izmir to take the flight back to Istanbul. Upon arrival, you will be transferred to your hotel and the rest of the day will be free to explore the city at your own pace.
Greca Tip: You can look for hand-painted pottery and carpets made in Izmir or clothing in traditional Izmir style. Don't be afraid to haggle as this is a common practice and vendors will expect you to do so for every item.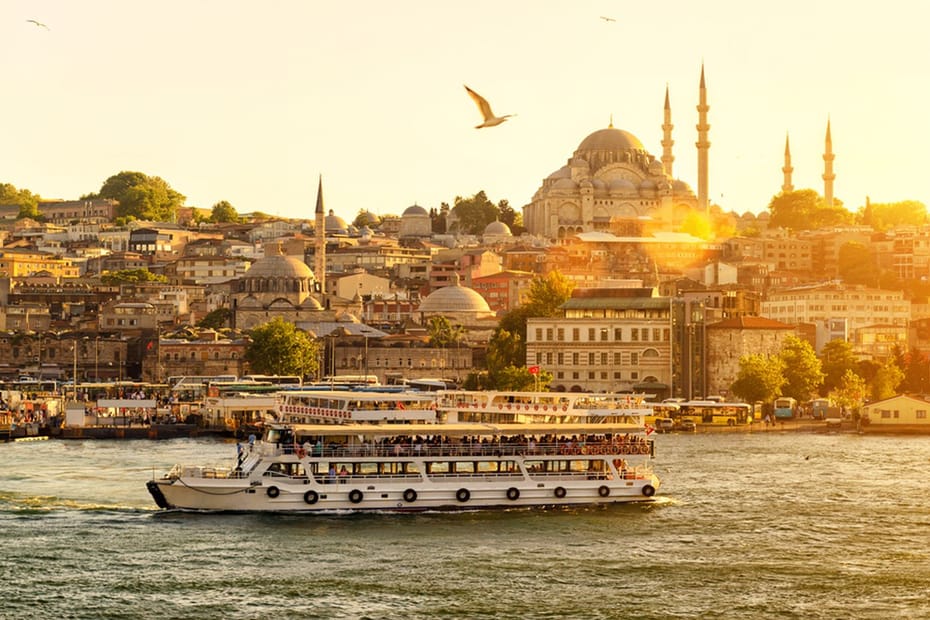 SEE YOU SOON ISTANBUL!
You will enjoy your breakfast and, at the time indicated, we will transfer you to Istanbul airport to board your international flight.
From all of us at Greca, we wish you a safe journey and hope to see you again soon to create more wonderful moments that will be etched in your memory forever.
Have a nice trip! Or as the locals say: "Iyi yolculuklar!"
Greca Tip: If you think that your stay in Istanbul was too short, you can add additional nights at the time of your booking.