Check Availability & Price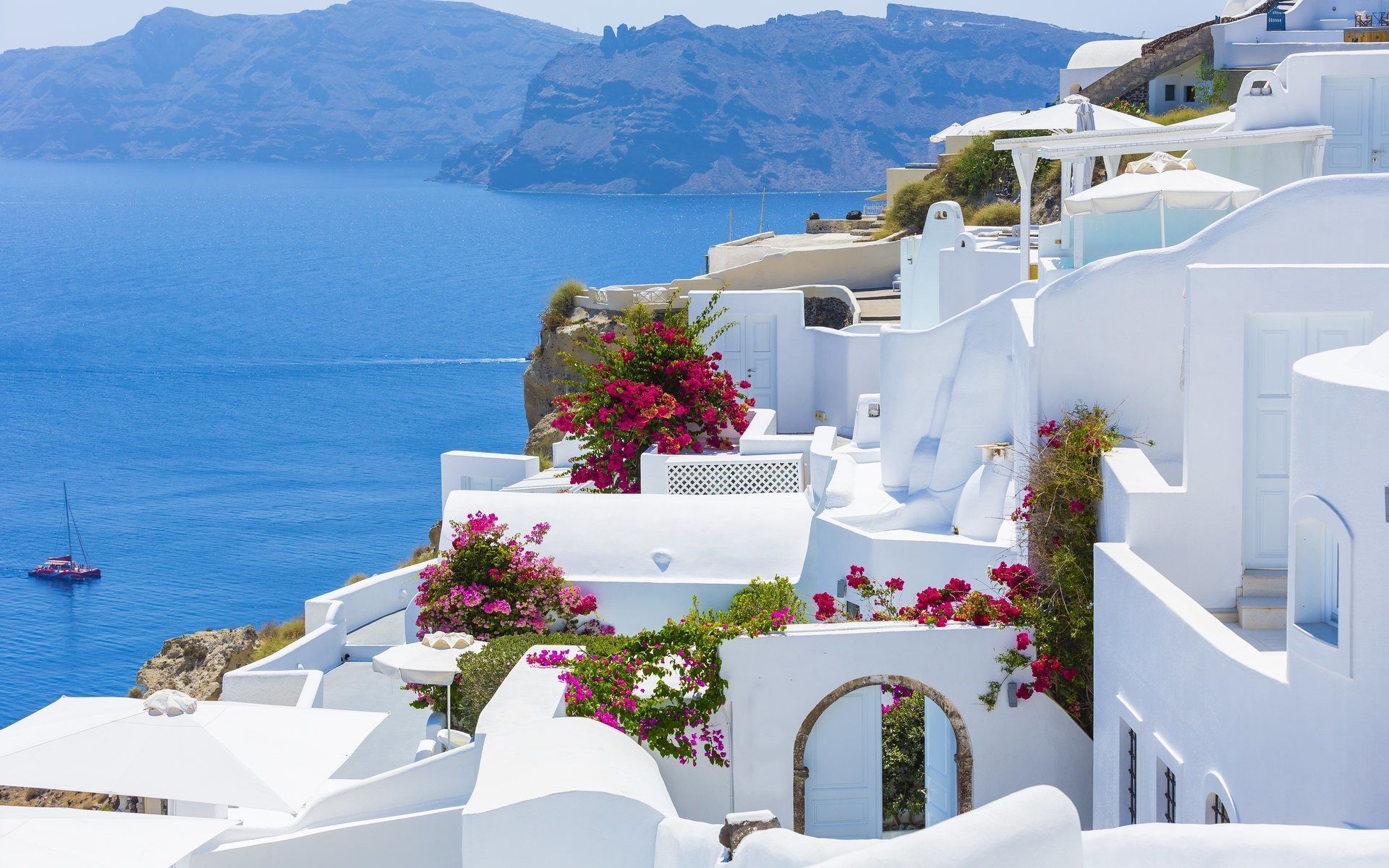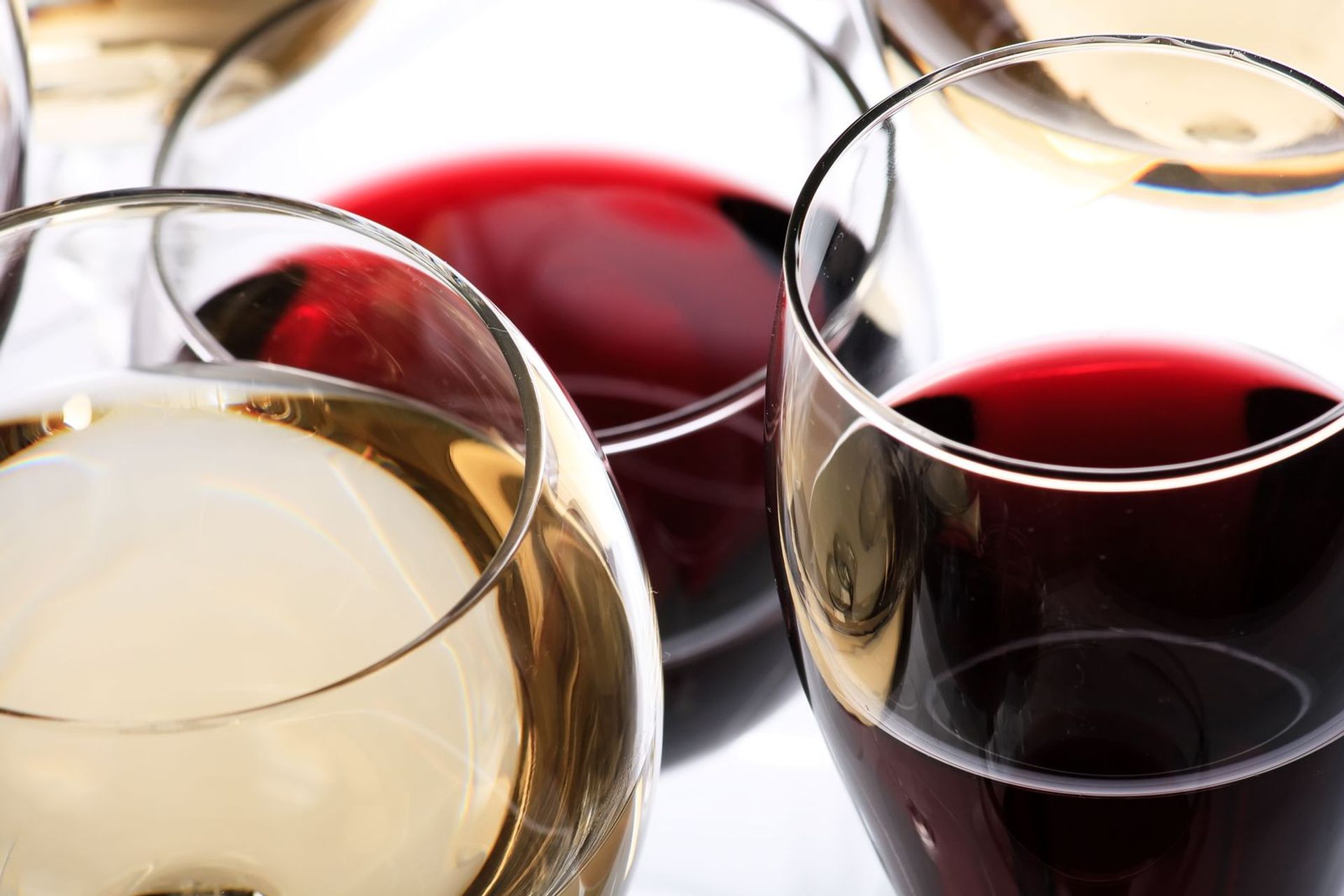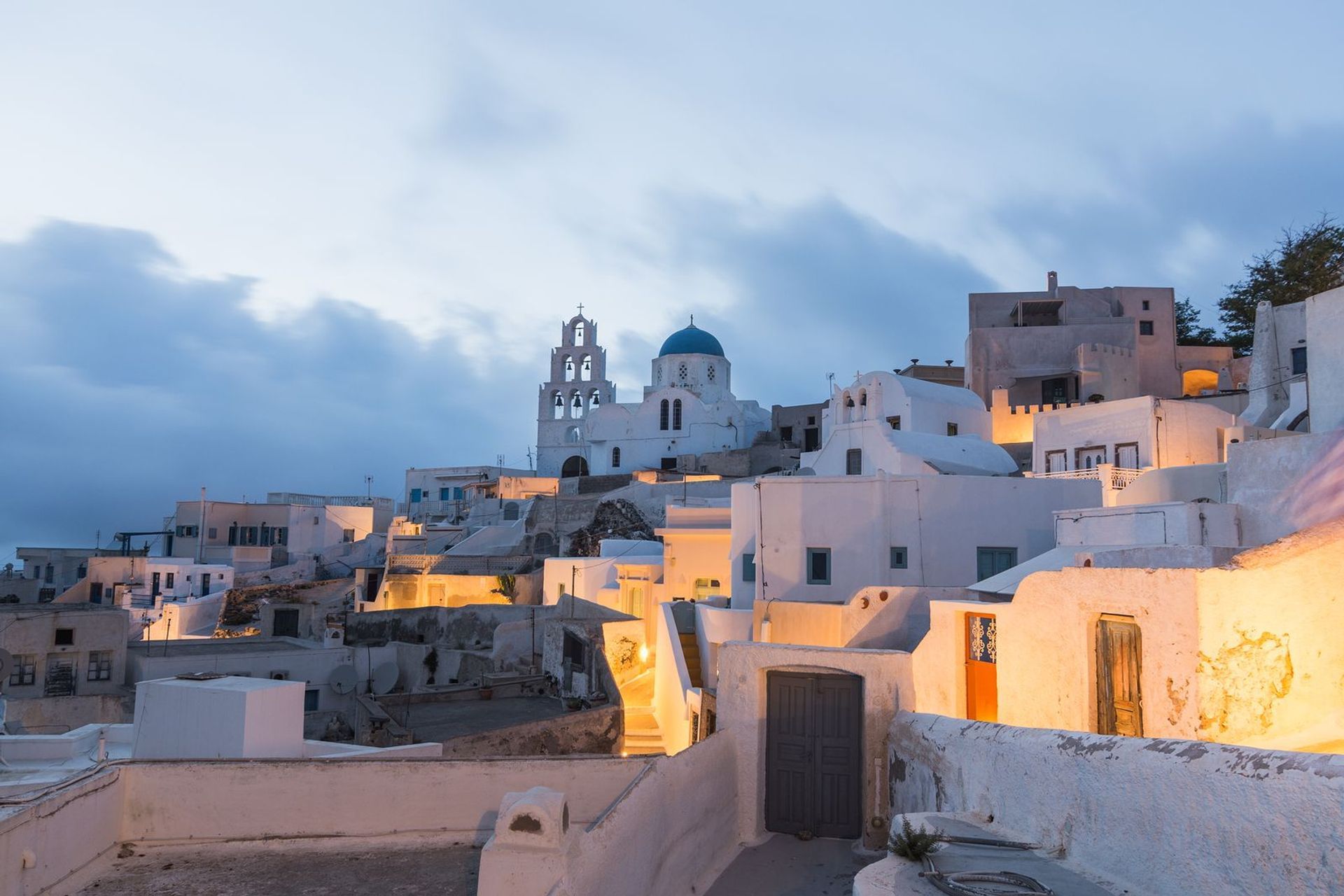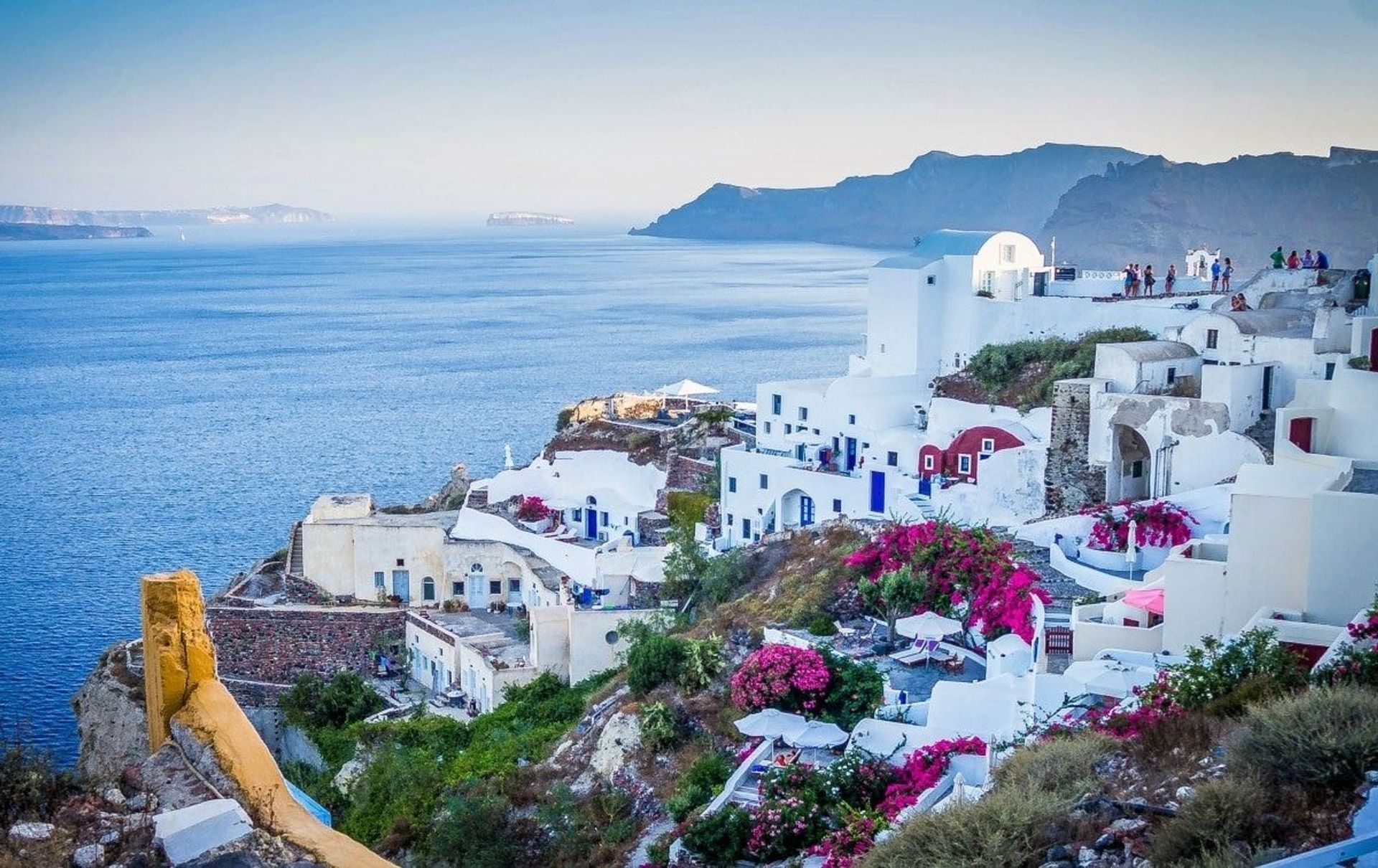 The 5-hour walk throughout the island of Santorini was very good. Our guide Fabio, despite being Brazilian, worked hard to speak Spanish. In addition to enjoying the views, we learned about Santorini's history and geography and various curiosities. Including the tasting of volcanic wines.
A very complete tour to know the essentials of Santorini.
Very nice experience, very nice guide, thanks
the tour was nice and organized, they are punctual and always concerned that we feel good.
A very complete tour and a very correct service. Essential if you travel to Santorini
I love all the walks and since I like photography I was able to take incredible photos of various points of the island that this excursion takes you. I'll be back one day for sure. Thanks
We thank Greca Viojes for organizing the tour. All very professional. a nice experience
All very well organized. Impeccable service, good food, all as contracted. Thank you Greca Viajes for the experience.
I loved the wine tasting on the island, he guides a marvel
Santorini is the most beautiful thing I have seen a sunset that you only enjoy there
All very well
A very well organized and very tasteful visit in which nothing was too much.
A great way to get to know the basics of Santorini.
A visit to the best of Santorini with a great team.
Excellent attention in all the services you hire. They were always attentive to any need. I would not hesitate to have your services again
A very complete tour for those who have a few days in Santorini. We liked a lot.
the experience was unbeatable, I must return to Santorini
All very well organized and professionally done. Thank you Greca Travel for the excellent experience
All very well organized. We loved the tour. Very attentive. Thank you
We are very happy that by choosing the Santorini Essential tour, we found a tour with professional quality and excellent organization. Nice views to photograph, the wine tasting, finally everything divine. Thank you.
We bought the Santorini Essential Tour and we want to thank for the professionalism and kindness of the guide on the tour. All very well done and explained with beautiful views. If you want to know a little of Santorini, I recommend the Greca Viajes tour with excellent quality of service.
Tour with beautiful views
The tour in Santorini was very well organized, with a very wise explanation from the guide. The wine tasting is very interesting and the town of Oía is beautiful.
Everything very well organized, the island is charming, the guide is very trained and friendly. The incredible views. Thank you
The essential Santorini tour turned out better than we thought. Punctual in the pick-up, the very professional guide, each point of the island with a beautiful and different view, we took many photos and we will return home with a nice reminder of this tour. Thank you very much Greca Viajes!
the wonderful guide
We were only in Athens for a day and a half or so and we were so glad we did the guided tour of the Acropolis and the Agora. Our guide explained everything perfectly and super nice at all times. It is essential to go with a guide to these places.
The guide, Mrs. Claudia, excellent
Both transfer services were very good. As for the excursion, it would suppress the visit to the momastery to give more time to the visit of Oía
A highly recommended tour
The tour was impressive, the guide that we had Darío was a love. We would hire him again without a doubt, I recommend him 100%
An essential excursion, an unforgettable day. Simple but complete.
We want to thank you for the excellent tour organized by Greca Viajes. We liked everything, the walk, the guide, the places we visited. Thank you
The tour was up to par, and Santorini very beautiful, recommended
An alternative and very good way to get to know the island of Santorini.
A walk in which to get an idea of how fantastic Santorini is.
The tour gave us beautiful memories of Santorini Island. All excellent. We will recommend your agency to our friends .. Thank you very much
We contracted the Santorini Essential tour and we want to thank the professionalism and attention of Greca Viajes. The divine tour, the guide with spectacular knowledge. A first class tour. Thanks a lot
very well organized the whole tour
You can find the magic of Santorini on this trip. Very well coordinated everything.
Perfect excursion to know Santorini.
Santorin was amazing. Tour highlights The Red Beach is perfect for taking photos. Walk through the narrow streets of OIa with one of the best views on the island. Very professional and quality service. I recommend you to know.
You have to know Santorini
Excellent organization and service. All very professional
We loved the tour. All well organized
A wonderful tour. Everything happened according to reserved. All very attentive and the guide spectacular. We recommend
Fantastic tour, beautiful Santorini. Thank you Greca Viajes for offering us this unforgettable experience.
Claudia, excellent guide!
Excellent service, Claudia super friendly and Jorge, friendly and helpful driver. Totally recommended the tour in OIA, WE HAD EXCELLENT INFORMATION FROM THEM TO ENJOY, THE BEST. CONGRATULATIONS! GREAT WORK TEAM.
We loved the tour with views of the island, the wine tasting, all done in a very professional way. Thank you.
The Santorini Essential tour turned out to be better than we expected, a very rich tour of beauty and information. Thank you Greca Viajes for the excellent organization.
Service according to what was contracted. A walk full of culture and beauty. I did not like wine tasting very much, everyone was very attentive and professional.
A tour with the most essential of Santorini. Very well organized, the guide with a lot of knowledge, very friendly. We have a nice memory.
Congratulations on organizing the tour. All very beautiful, the spectacular guide and exciting Santorini. Thanks
we toured and met a beautiful island, he guides a love
I saw the sunset from Oia, unique is super beautiful everything
a nice guide, the delicious wine and the wonderful sunset
the island is a beauty and you know it almost completely
ALL OK
wonderful excursion
We really enjoyed this visit, very well explained by our guide, we toured the most important points of the island, excellent service, I would definitely recommend traveling with Greca
Very good excursion to get to know the island without renting a car / motorcycle, the beautiful sunset. A basic excursion to put you in the first days.
Excellent time management.
When you travel to Santorini with a few days it is a good option, the quia (Constantino), was very kind and very friendly with us, the only thing we missed was visiting the red beach and in my opinion the wine tasting of the region was too much extensive, I would have liked to have done another activity
Oia, Red Beach, Pyrgos, Prophet Elias
Guaranteed departures every Monday, Tuesday, Thursday and Saturday, from April to middle of October
Book Now with the #1 Agency in Greece designed for and by travelers!
What is included in this tour
Pick up and drop off.
Visit to Red Beach.
Panoramic stop at Prophet Elias.
Visit to Oía.
Visit of a winery and tasting of 3 kinds of local wine.
Official English-speaking tour guide.
Groups of up to 15 travelers maximum.
Not included & Optionals
Gratuities and personal expenses.
10% discount for Black Friday & Cyber Monday of more than 1 traveler
Hotel pickup
The tour includes pick up and drop off from/to the majority of the hotels in Santorini. Upon reservation, we will advise you about the pick up time from your hotel or the closest pick up point.
Approximate duration
This tour las 5 hours approximately.
When to book?
We recommend booking as early as possible in order to ensure availability.
Payment Method
Reservations can be paid by credit and debit card via our website.
Cancellations
Full refund for cancellations at least 48 hours in advance. In case you want to modify the date, check that the tour is operative on the desired date.
Voucher
Once the reservation is made you will receive an email with your booking number or receipt. Printed vouchers are not essential for this tour.
How to make a reservation?
Enter the desired date, the number of travelers and book in 3 simple steps. When the booking is processed, our agents will send you an email with all the details!
Because at Greca we care
Booking never was so easy and simple!
Easy and risk free. We will clear up your doubts!
We'll reply in less than 24hrs. Contact us Now!
Excursion Itinerary: Quintessential Santorini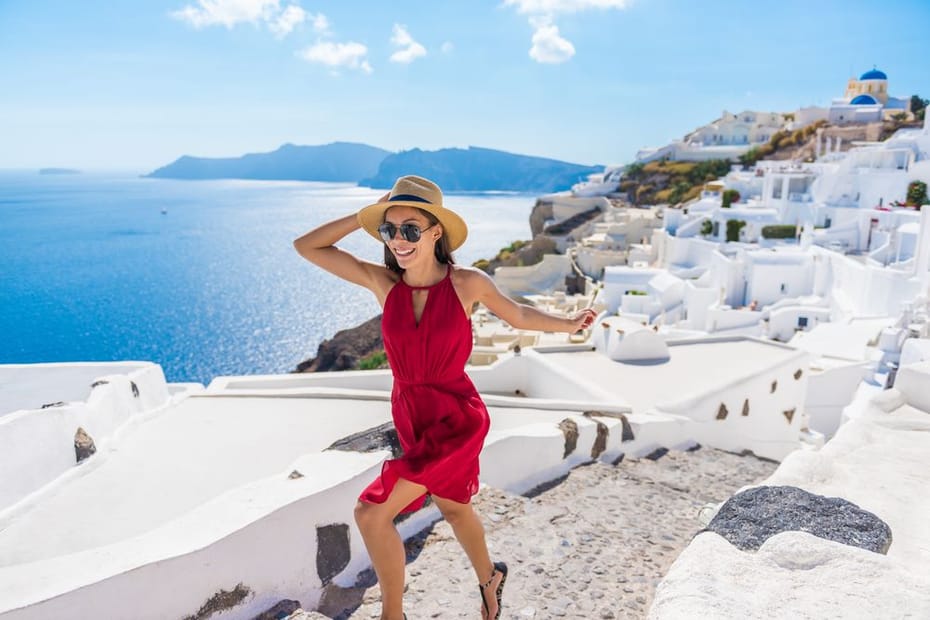 QUINTESSENTIAL SANTORINI
At the appointed time, our staff will pick you up from your hotel to begin an unforgettable highlights tour of Santorini.
Your next stop will be at the largest beach on the island, the famous black beach of Perissa, with its refreshing, crystal-clear waters along and the impressive black volcanic sand. This is a cosmopolitan and and fully-organized beach, a place that offers a great variety of restaurants, taverns, cafe, beach bars, and water sports facilities.
Leaving Perissa, you will head towards the center of the island, and more particularly to the traditional village of Megalochori. This is one of the most picturesque villages and in the heart of the vineyard country. It boasts many historical mansions with high walls, inner courtyards and solid wooden door entrances and a maze of winding cobbled streets. In the village square full of taverns and cafes you can enjoy a cup of office under the welcoming shade of the trees.

You will end your tour in magical Oia, the most well-known and busiest place of the island and a source of inspiration for many film and TV crews. You will stroll in its wonderful and picturesque cobblestoned streets, among the charming cave houses carved in the island's rock, you will enter the beautiful and historic blue-domed churches and finally watch one of the most beautiful sunsets in the world.
Greca Tip: Do not breeze through Oia - watch the sunset from a café or from a boat—you'll be spellbound!