Check Availability & Price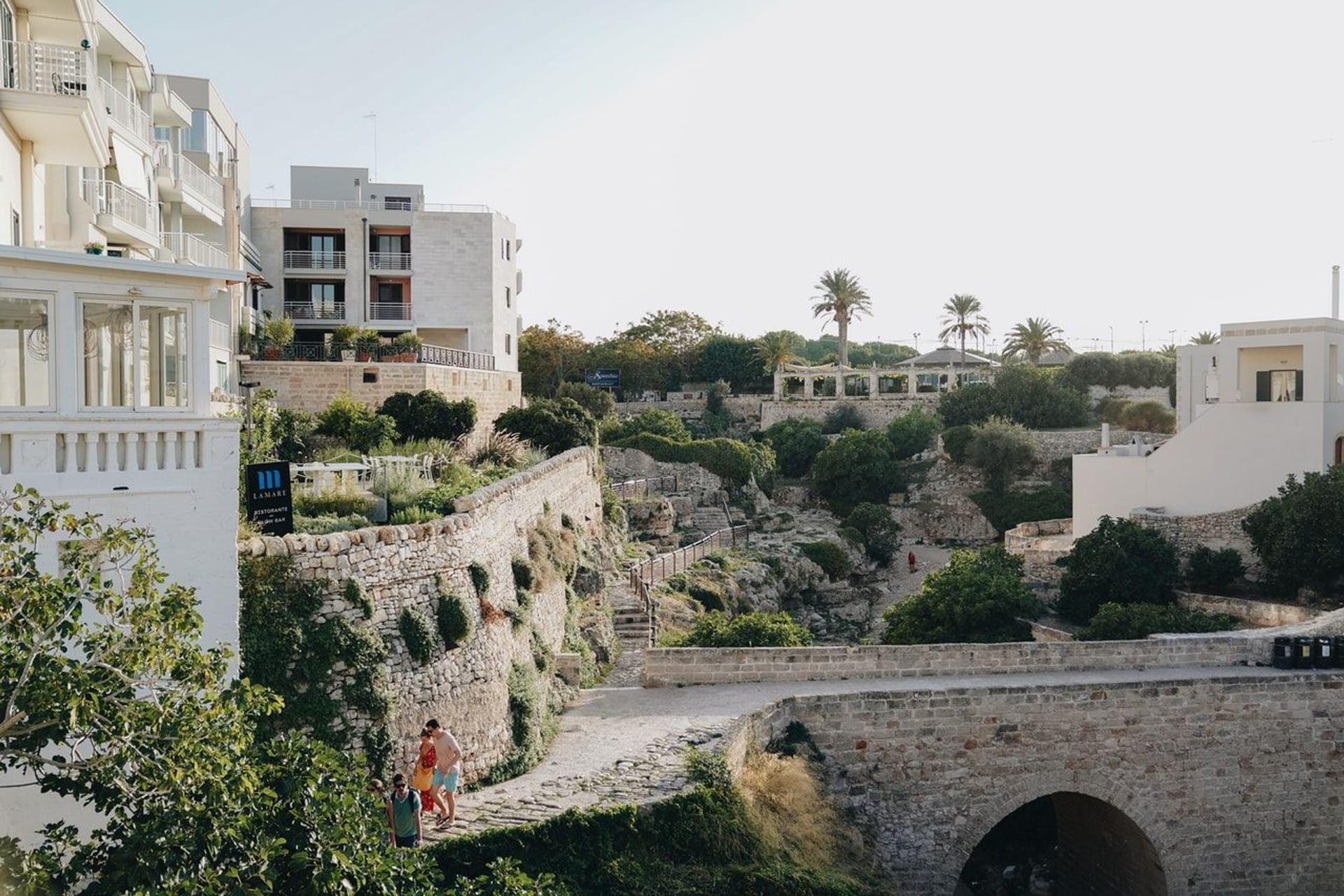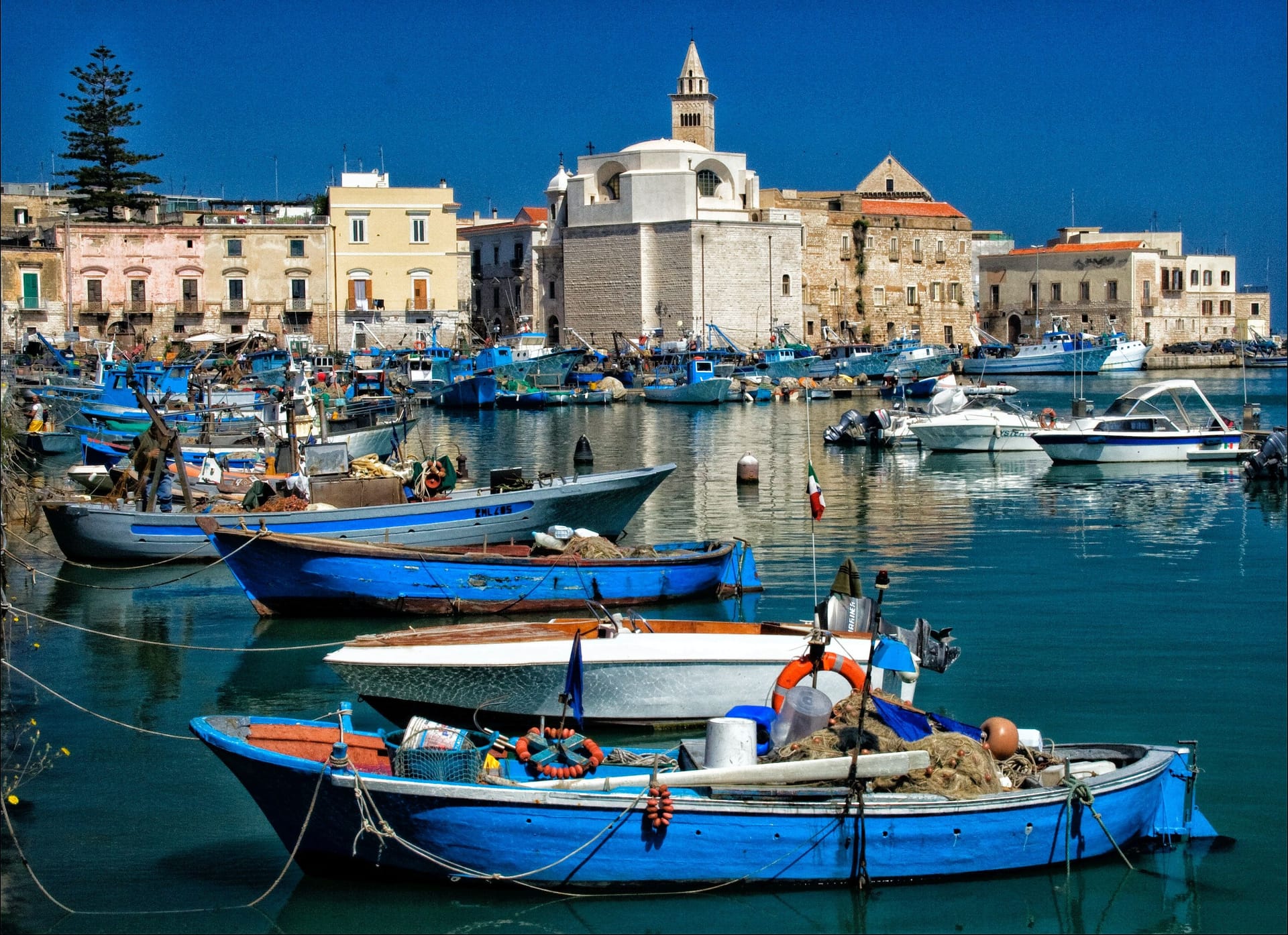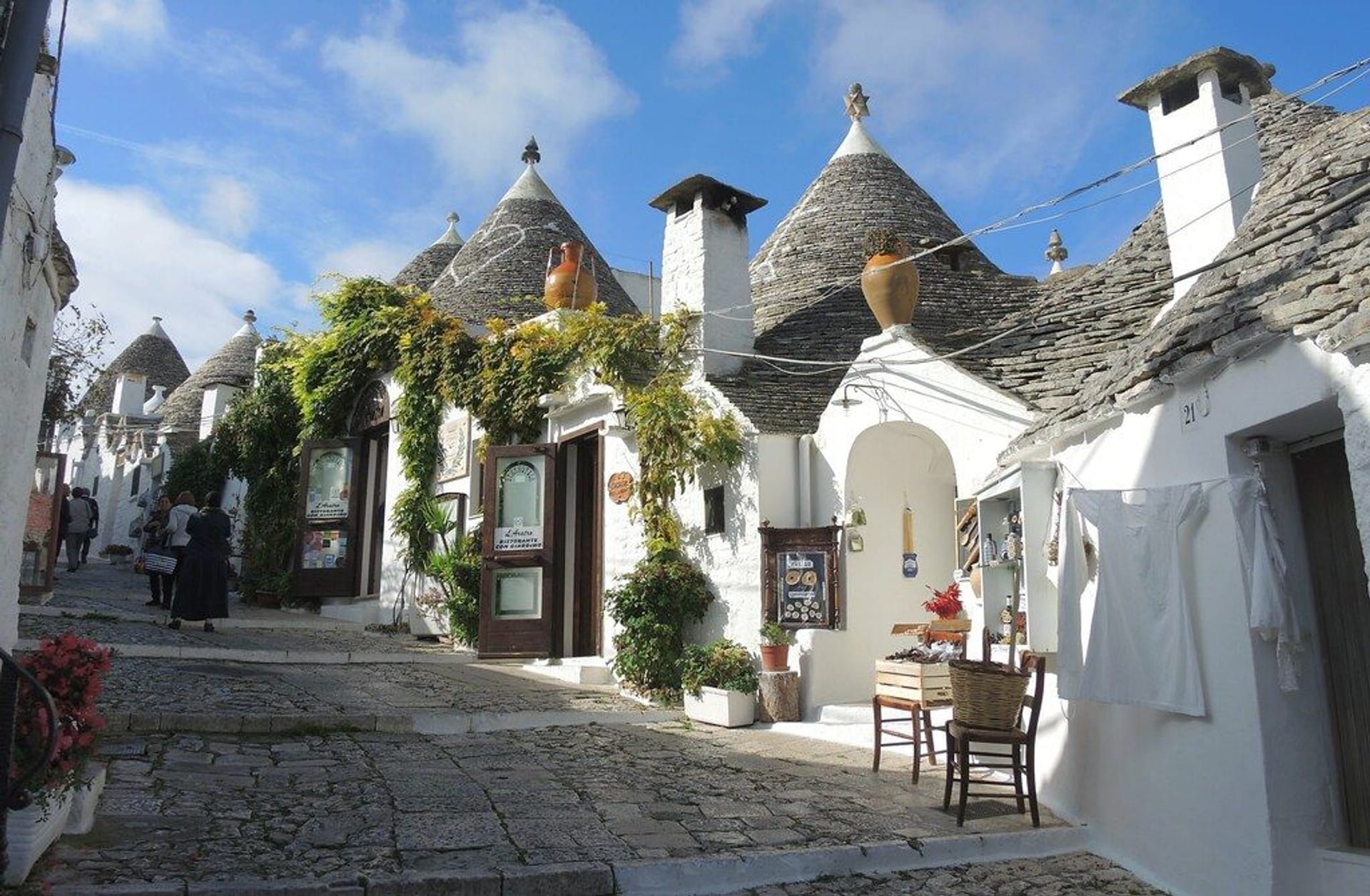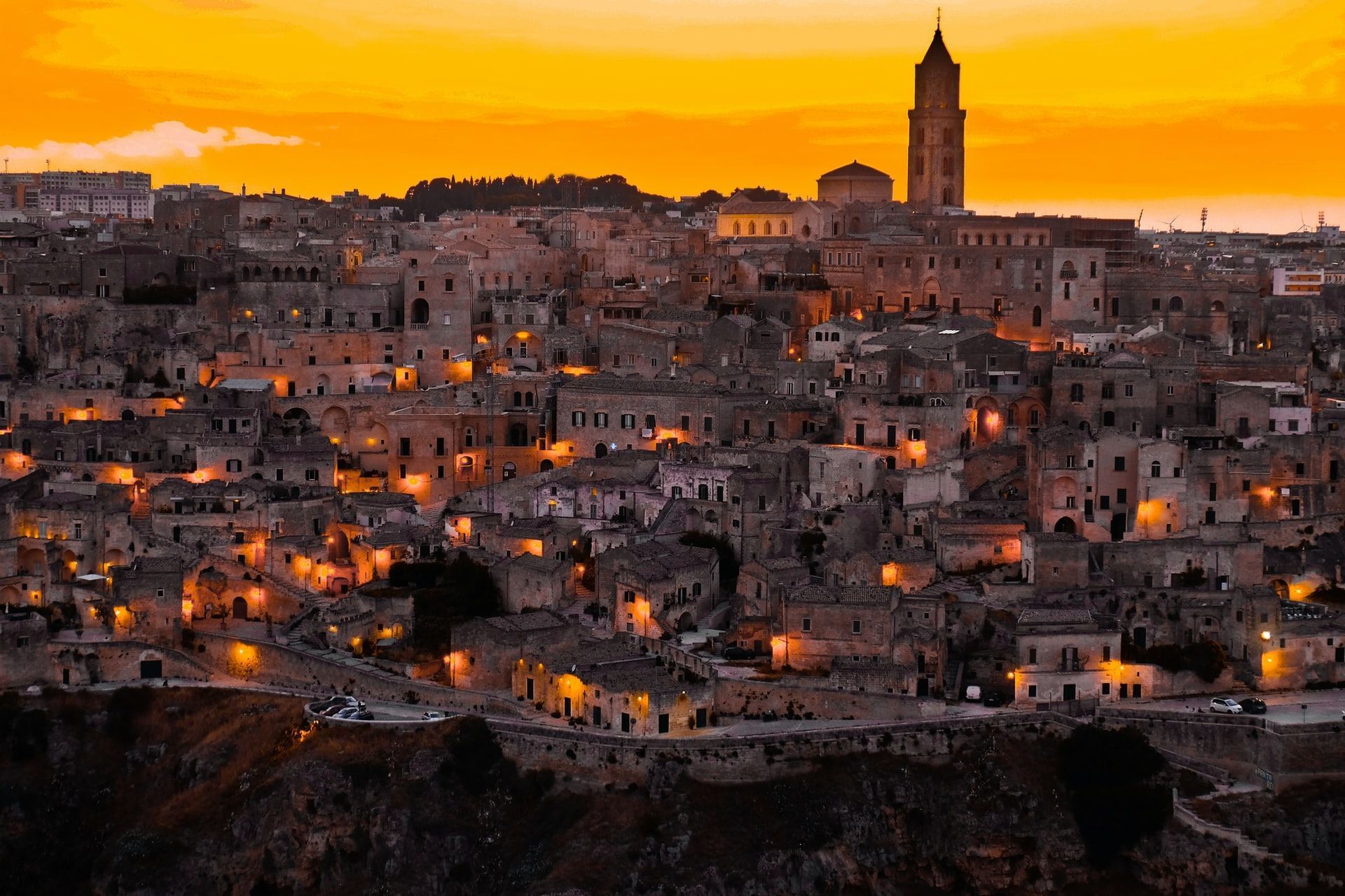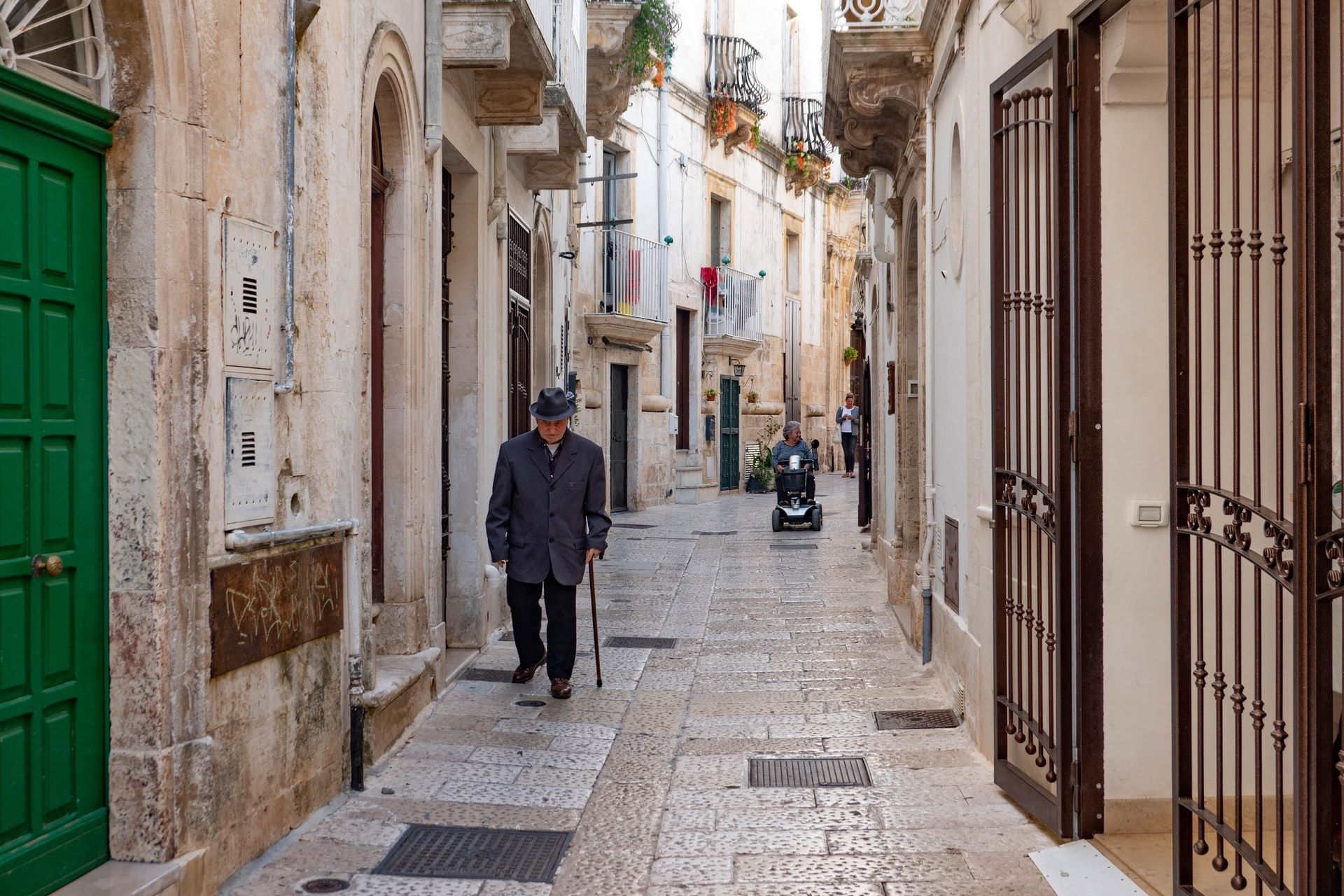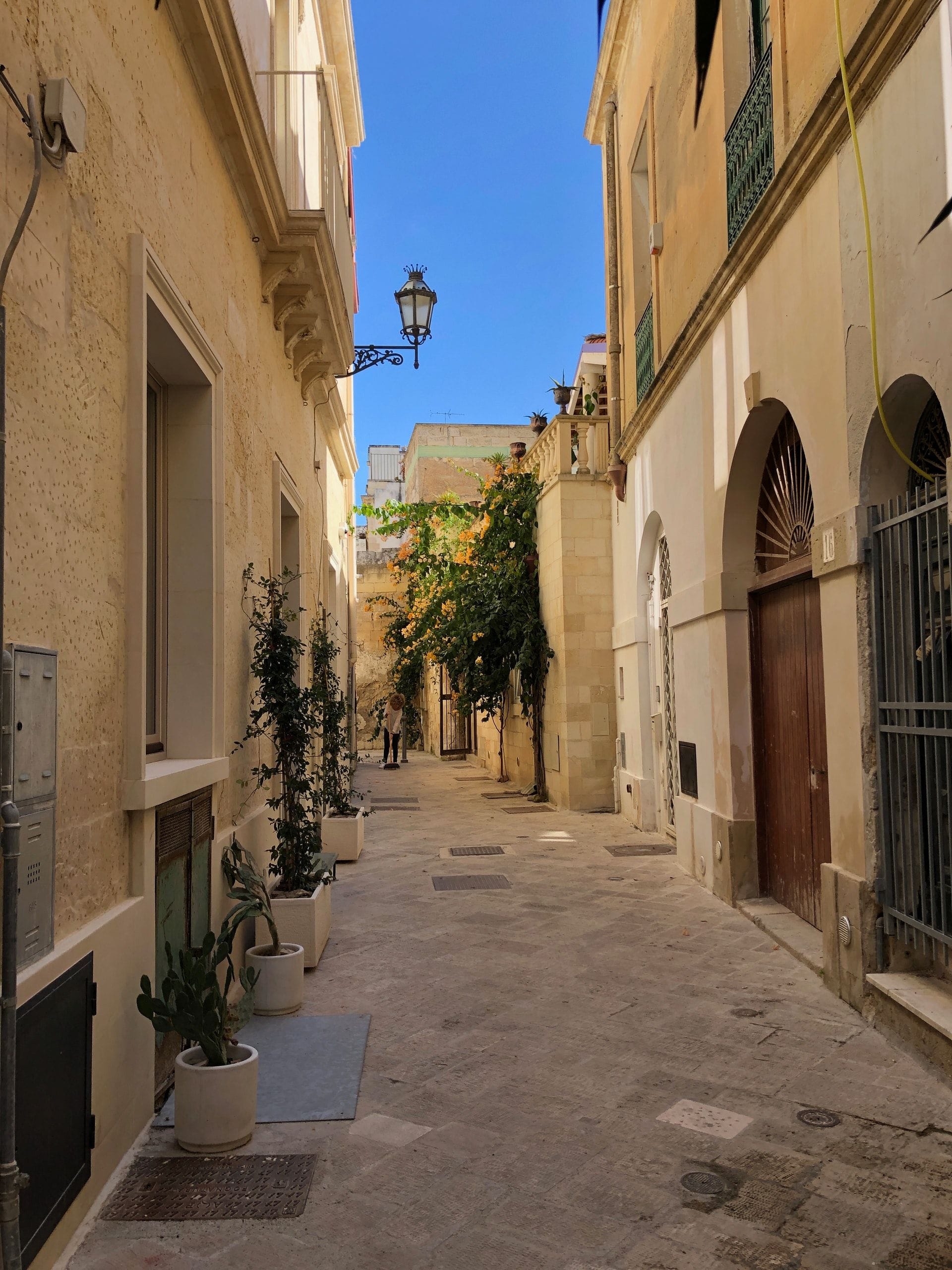 Bari, Trani, Castel del Monte, Alberobello, Matera, Locorotondo, Ostuni & Lecce
Selected departures on Fridays from May to October
Book Now! All our programs in up to 12 installments without interest
What is included in this tour
1-night accommodation in Bari in a 4* hotel.
2-night accommodation in Alberobello in a 4* hotel.
2-night accommodation in Lecce in a 4* hotel.
Visit of Bari, Trani, Castel del Monte, Alberobello.
Visit of Matera, Locorotondo, Ostuni.
Local guides in Bari, Matera & Lecce.
Travel by luxury coach.
24/7 Emergency phone line.
Daily breakfast.
5 Dinners.
Small groups, maximum 15 participants.
Not included & Optionals
Tips or personal expenses.
Drinks during meals.
Municipal Hotel Taxes paid directly to the hotels.
Book more pre tour nights in Bari or post tour nights in Lecce by clicking on "Customize your Program" or during step 1 of your reservation.
Find the answers to the most frequently asked questions, including hotel categories and rates by clicking here.
10% discount for groups of more than 10 travelers
Hotel pickup
Upon reservation, we will advise you about the pick up time from your hotel or the closest pick up point.
Approximate duration
The tour lasts 6 days and 5 nightS.
Clothing
We suggest bringing a handbag for your convenience (maximum 1 suitcase per person).
When to book?
Greca manages its own services but we always recommend that you book as early as possible in order to ensure availability.
Payment Method
Reservations can be paid by credit and debit card via our website.
Cancellations
Full refund for cancellations at least 15 days in advance. In case you want to modify the date, check that the tour is operative on the desired date.
Voucher
Once the reservation is made you will receive an email with your booking number or receipt. Printed vouchers are not essential for this tour.
How to make a reservation?
Enter the desired date, the number of travelers and book in 3 simple steps. When the reservation is processed, our agents will send you an email with all the details!
Customize it now
Because at Greca we care
Booking never was so easy and simple!
Easy and risk free. We will clear up your doubts!
We'll reply in less than 24hrs. Contact us Now!
Excursion Itinerary: Visit Apulia From Bari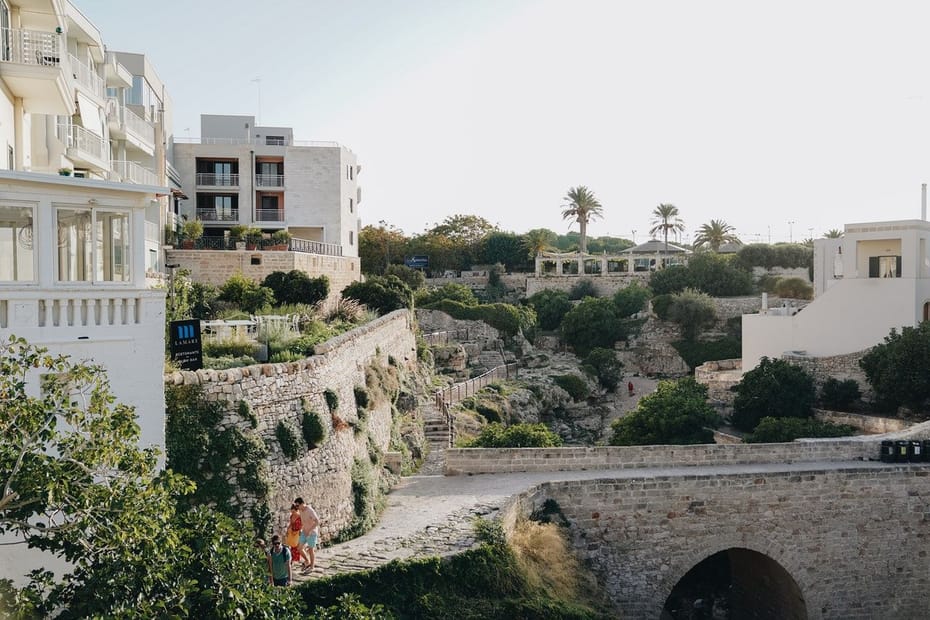 BARI
Arrival in Bari on your own and then meet with our tour leader at your hotel to start the tour to explore this amazing region.
You will learn about the city's history and its most important monuments, walking through the narrow alleys of the old city and admiring the Basilica of San Nicola. You will be astonished by the amazing views you can enjoy from the 12th century fortress bulit by Roger the Norman and rebulit by Frederick II of Swabia (entrance fee to the Castle is not included).
Later on you will reach Piazza Mercantile, where you will see the ancient Column of Justice, taking its name from its old use where fraudulent debtors were tied to the stone pile and left at the mercy of the people.
In the evening you will enjoy a delicious dinner at your hotel and a good night's sleep.
Greca Tip: Explore the narrow streets of the old town to see the local culture, marvel at the fine buildings and see where this great city arose from.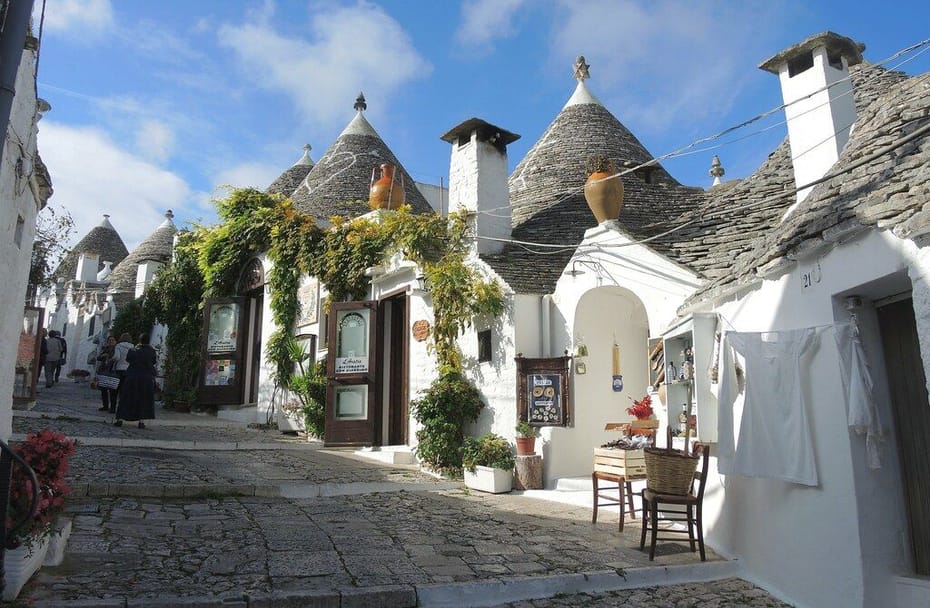 BARI - TRANI - CASTEL DEL MONTE - ALBEROBELLO
After a delicious breakfast, you will travel with our luxury bus to reach Trani. The city is known for its picturesque seaport, art monumnets, the Jewish quarter and the historic white stone Cathedral.
In the afternoon, you will reach Castel del Monte, built in the 13th century, one of Puglia's most praised landmarks also listed as an UNESCO World Heritage Site. The castle's location, its perfect octagonal shape, as well as the mathematical and astronomical precision of its layout all reflect the broad education and cultural vision of its founder, Emperor Frederick II.
You will continue your tour towards Alberobello, a UNESCO World Heritage Site, mostly famous for its "trulli", whitewashed stone huts with conical roofs. The hilltop Rione Monti district has hundreds of them.
In the evening you will reach your hotel, sleeping in a real "Trullo" where you will enjoy a lovely dinner and a good night's sleep.
Greca Tip: Explore the old town centre of Trani and its charming mediaeval network of streets around the picturesque fishing port, which is itself flanked by numerous bars, cafés and fish restaurants.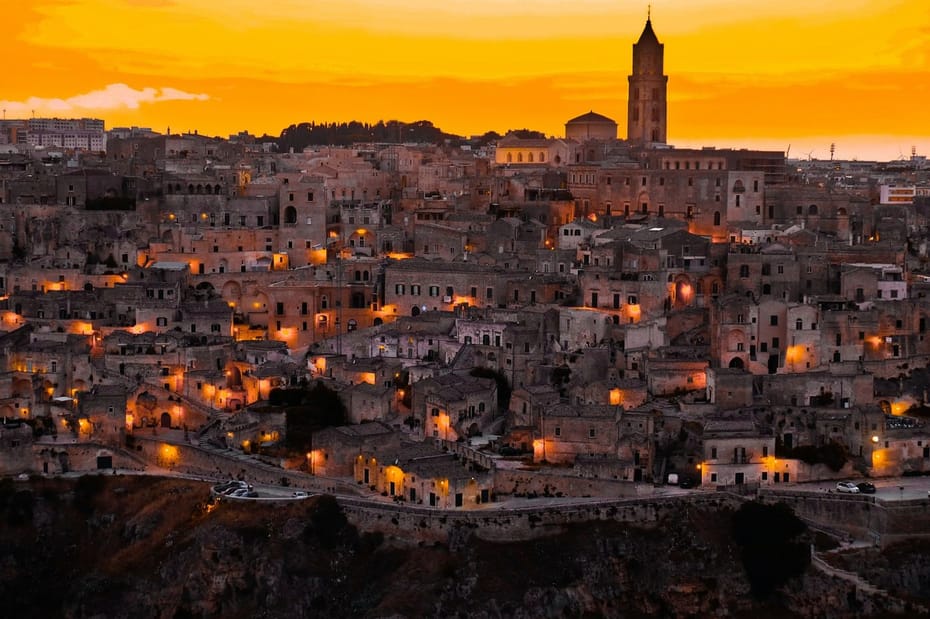 ALBEROBELLO - MATERA - ALBEROBELLO
After having breakfast, you will walk approximately 200m. to the square to take our bus for your next destination, Matera, a city on a rocky outcrop in the region of Basilicata, in southern Italy. Included in the list of UNESCO World Heritage Sites, the Stones of Matera have been used as houses for over 9,000 years!
From the "Campanile" (Bell Tower), you will enjoy the amazing views of "Sassi di Matera".
Late in the afternoon you will be transferred back to Alberobello, have dinner at your hotel and spend the night.
Greca Tip: Taste the authentic Matera bread made from 'hard wheat' of the area with its unique taste and deliciously crunchy crust.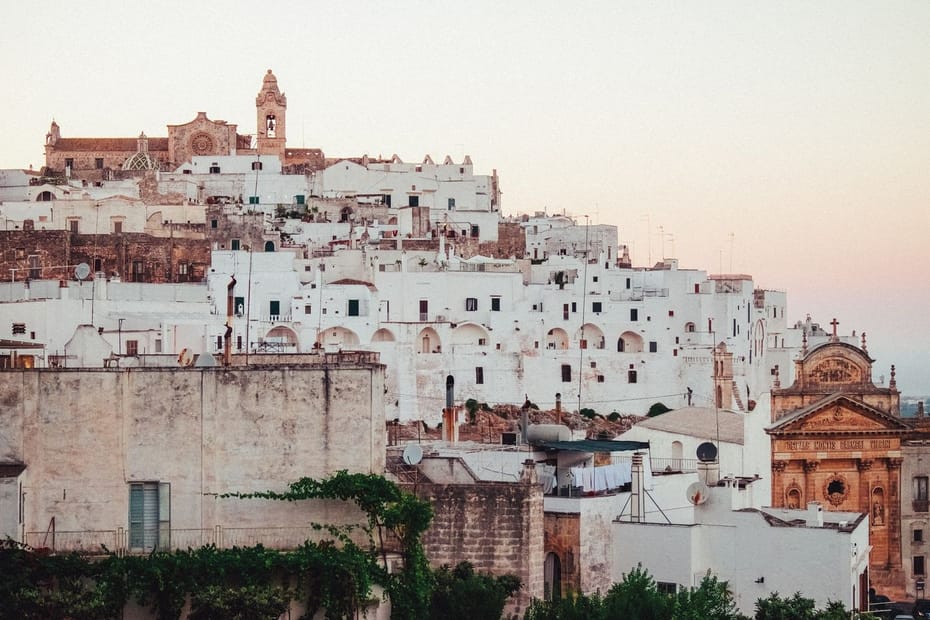 ALBEROBELLO - LOCOROTONDO - OSTUNI - LECCE
In the morning, you will enjoy a delicious breakfast at the square of Alberobello, and then by coach you will depart to Locorotondo. Upon arrival you will have some time to explore this town, situated in the Valle d'Itria a green stretch of countryside dotted with the famous whitewashed cone-roofed trulli houses. Your next stop will be Ostuni, another "white town" of Puglia. You will have free time to enjoy on your own lunch, do some shopping and taste the local products.
Later in the afternoon, you will reach Lecce, to check in at your hotel and enjoy a lovely dinner.
Greca Tip: In the white alleys of the old towns in Ostuni & Locorotondo, you will find many craft shops, where you can buy your souvenirs made out of leather, olive wood or the local stone.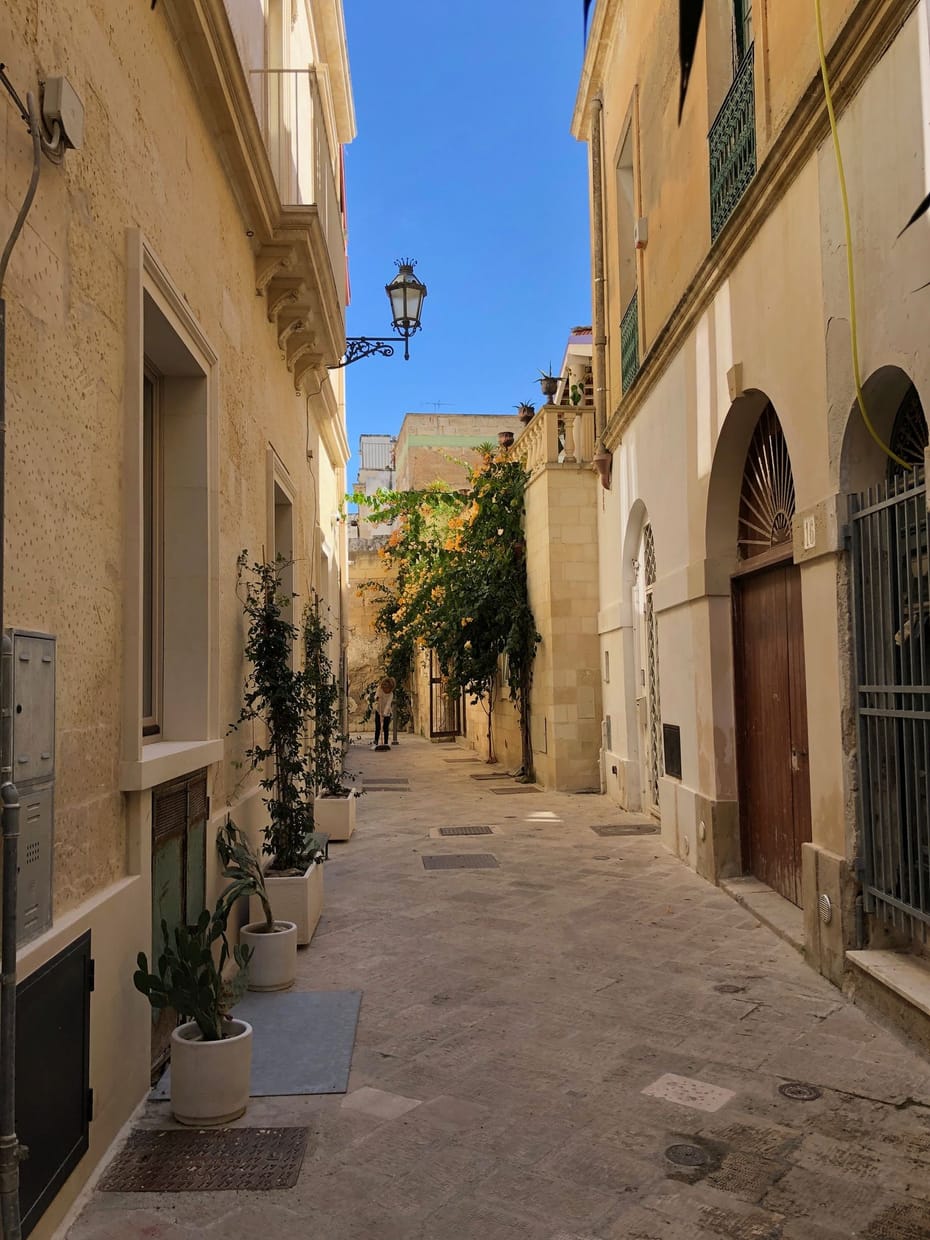 LECCE - OTRANTO - SUPERSANO - LECCE
After enjoying a delicious breakfast at your hotel, you will head for a 3-hour guided walking tour of the city of Lecce. You will learn about its history, you will visit the old town center, the 12th century Cathedral, the Basilica of Santa Croce and Piazza del Duomo.
After the tour is over, you will depart for Otranto with our luxury bus, where you will have some free time to enjoy the city at your own pace. A once-thriving Roman port, it was a bridge between the east and west, an important merchant port. Otranto was founded by the Greeks, incorporated by the Romans, taken over by the Longobards, and occupied by the Byzantines and the Normans, who each left a mark on the seafront city. It was sacked by the Turks in 1480. A walk around the old quarters will show you how all these cultures have blended together. You shouldn't miss the chance to visit the Cathedral where the bones of 813 martyrs are dispalyed in a glass case behind the alter.
Early in the evening, you will reach Supersano, where you will have dinner at the "Masseria le Stanzie", an ancient farm where you will learn about the history and culture of Puglia. You will see how homemade pasta is made and have dinner with local products from the region.
Later you will return to Lecce for a good night's sleep at your hotel.
Greca Tip: If you have some spare time in Otranto, visit the "Cava di Bauxite", one of the most enchanting spectacles of nature - a small lake with intense emerald green tones surrounded by rocky walls characterized by a beautiful imperial red. Located south of Otranto, only a 10-min drive!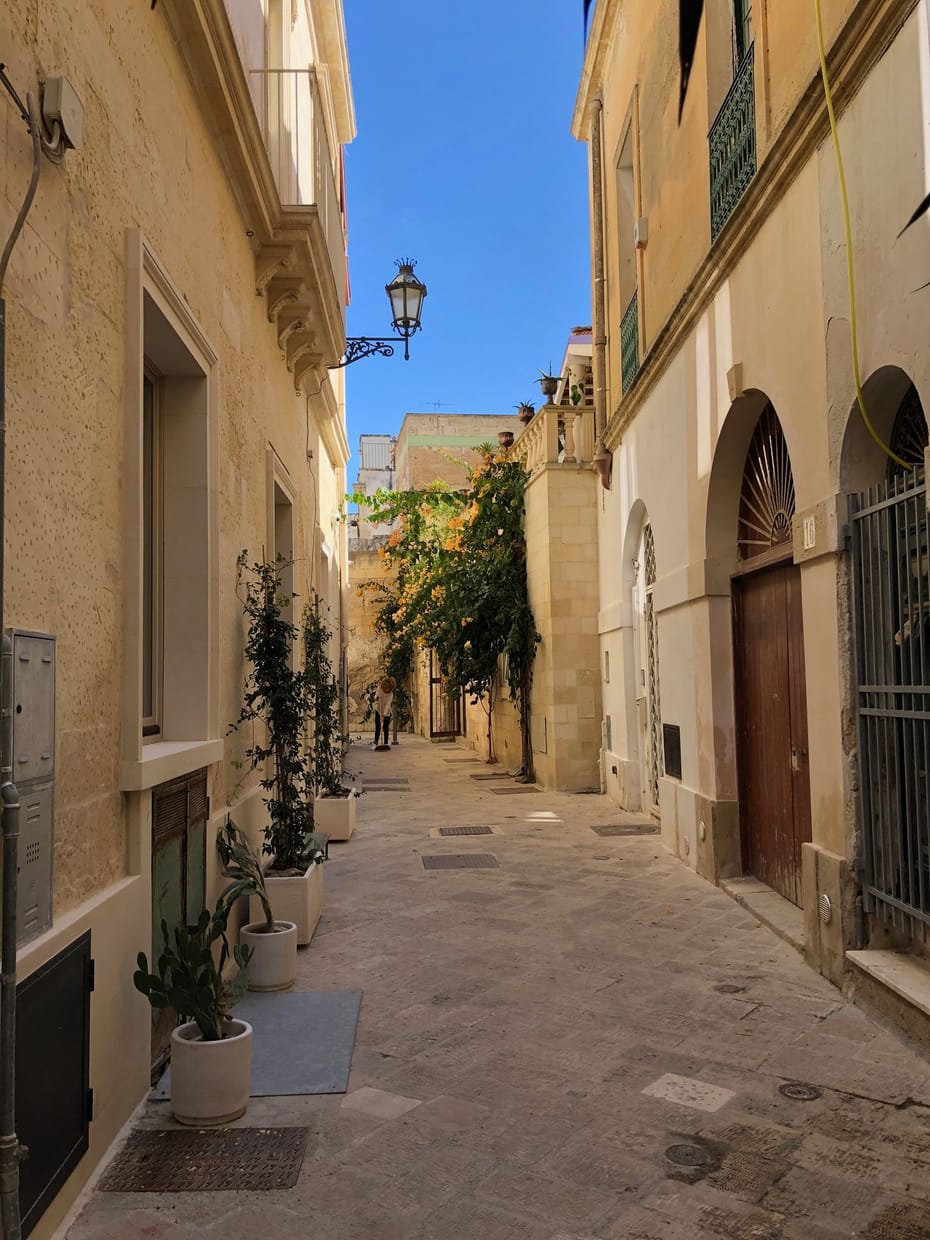 LECCE
After enjoying a delicious breakfast at your hotel, our tour will come to an end.
Greca Tip: If you wish to extend your stay in Lecce you can add extra nights at Step 1 of your reservation.